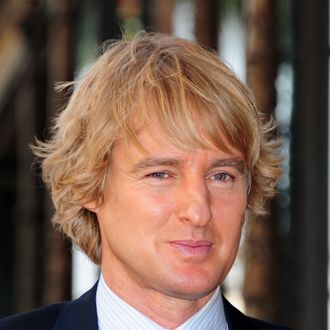 Photo: ROBYN BECK/AFP/Getty Images
"No one relaxes in March," Ogden Nash once wrote, and that's especially true of Tina Fey: She had been reportedly flirting with Paul Weitz's rapidly coalescing drama Admission, an adaptation of the Jean Hanff Korelitz novel, and now Vulture hears that not only is the 30 Rock star a cat's breath away from committing to it as her next film, but that Owen Wilson is weighing whether to come aboard, too.
In Admission, Fey would play an Ivy League admissions officer named Portia Nathan whose relationship with a 17-year-old recruitment prospect threatens to unravel her personal, romantic, and professional lives. Wilson, we hear, would play a teacher at an alternative high school who falls for Fey. The Admission script is from Karen Croner, best known for One True Thing starring Meryl Streep a dozen years ago. Croner also has a new movie prepping with Uma Thurman based on this book.
Weitz hopes to make Admission at Focus Features, the art-house division of Universal Pictures, which means two things: One, don't expect any Baby Mama–style jokes about rubbing olive oil on your taint; this is Oscar-bait, people! And two, it would be done for a low price, so deal-making is both less important (since no one will be doing this to get rich) and more important than ever (since Wilson just had a career-reviving moment with Midnight in Paris and is no doubt weighing multiple offers, some of which are likely just "payday" parts). Whatever Wilson chooses, Admission would need to start shooting this June, when 30 Rock goes on hiatus.