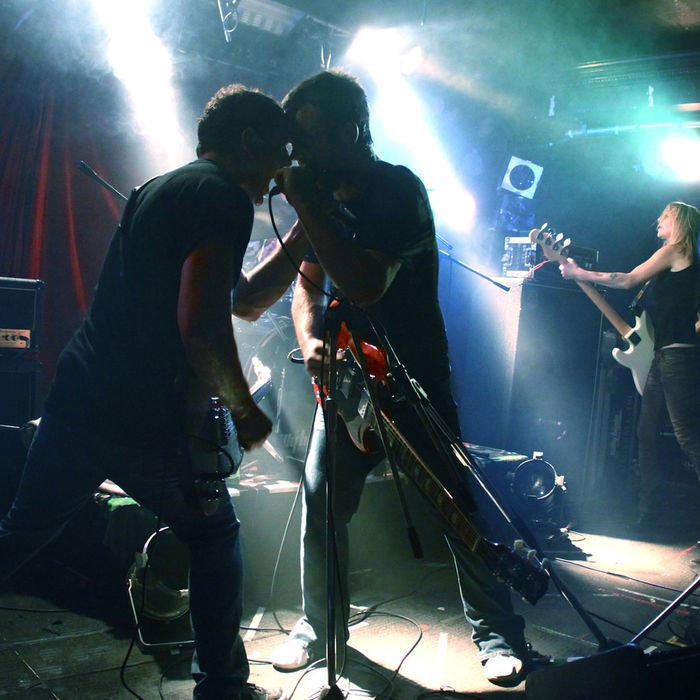 The most fun thing about arriving at South by Southwest on Tuesday is observing the shift change between the Interactive segment of the conference and the Music one. Anyone wearing a blazer at this point is probably on their way out of town. You can watch the real-time dismantling of whatever strange "Like the Internet, but in Person" reality-bubble surrounds the tech folks and bloggers who are on their way home — this parallel world where homeless people are enlisted as WiFi hotspots, Nokia wafts fake snow over an Austin street corner (it's like a website banner ad, but in person), and an entire restaurant is rebuilt and rebranded as the "CNN Grill." I hate to say it, but it can make a Music person feel a little poor. We get here and the big money goes elsewhere. But then we can spend half a week attempting to enjoy music without too often thinking of it as "content" we are somehow in the business of monetizing. If we're lucky.
I couldn't think of a better way to ease into this state of affairs than going to see Future of the Left, the act started by two ex-members of a beloved Welsh rock band called McLusky. I mean, their latest single, from an upcoming album called The Plot Against Common Sense, has a title that flips an old Ramones song into a sneery description of what we're all doing down here: It's called "Sheena Is a T-Shirt Salesman." (The lyric ends with the phrase "love of tote bags.") They play muscular punk, stripped down to a vocabulary of jolts, jostles, and shoves. The real selling point will always be frontman Andy Falkous, who sings in a sneering, pugnacious bellow, occasionally replicates the sound of a panic attack, and is funny as hell. Never mind the wry lyrics: His voice alone is one of those great periodic rock reminders that the conditions of your presence in modern culture are a little absurd, and the conditions of Falkous singing in a rock band are absurd, too, all in a way you can laugh at, but laugh at angrily, perhaps.
Future of the Left have spent a while now fighting people's sense that they might be some sort of lesser afterthought to McLusky. Their latest lineup stands a chance of changing that. At a British Music showcase at Latitude 30, they played like gorillas, sometimes literally; Jack Egglestone's drumming face looks approximately like Donkey Kong. The newest members, guitarist/shouter Jimmy Watkins and bassist Julia Ruzicka, could probably earn serious money with a Future of the Left workout/arm-toning DVD. And they were prepared to tackle that whole "afterthought to McLusky" question head-on: Midway through the set came a performance of one of the old band's best songs, "To Hell with Good Intentions," followed immediately by the new single. Incredibly, the new single got a better response. The album is scheduled for late May — if it sounds as good as this show, it'll be a treat.
Falkous's string of between-songs drolleries wasn't bad, either: "If there's one act that truly embodies the spirit of South by Southwest, it's Keane." "If you vote for Rick Santorum, you will die even more alone than the rest of us." "Thank you for your 'woo.' I will take it with me until my bath tonight, and wonder what to do with it at that stage." This is the right attitude for kicking off an event like this — a grumpy guy with a pin to stick in any bubbles that might present themselves, and some solid jokes about all our various attempts to monetize the whole thing. He should have come here last week to troll all the tech idealists.