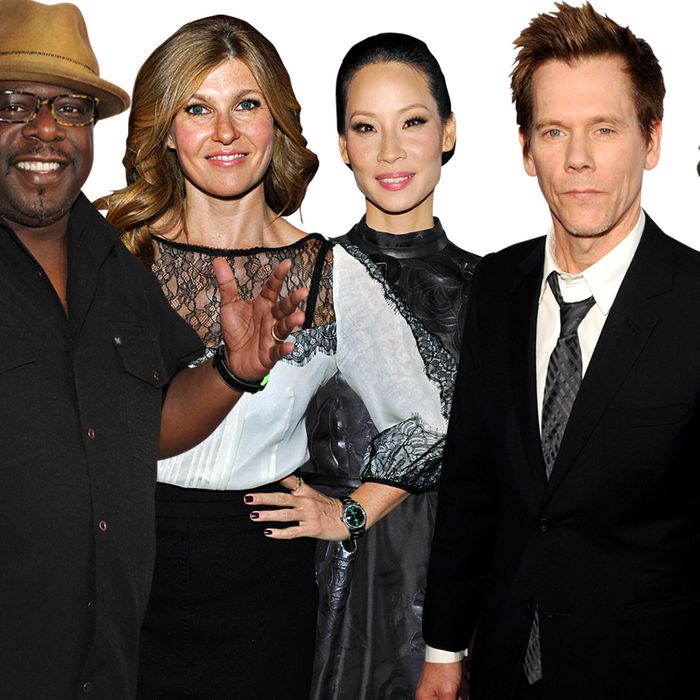 Cedric the Entertainer, Connie Britton, Lucy Liu, Kevin Bacon and Keri Russell all have pilots brewing.
Photo: Getty Images
Ah, pilot season: The most hectic and promising time of year. Each spring brings the tantalizing allure of new hits, the delicious impending Schadenfreude of new failures, a chance to gaze into the world of TV production and wonder what's next. This year, there are nine big trends among the shows vying for spots in the 2012–13 season. You've got your Westerns, your soaps, your cults — and don't forget your two Beauty and the Beasts.
1. Cults
TV hasn't explored the idea of cults since Big Love trekked out to Juniper Creek, but there are three shows in the running for next season that all address some facet of groupthink. Kevin Williamson's untitled Fox drama stars Rome's James Purefoy as a maniacal serial killer who escapes from prison and uses social media to communicate with his "groupies"; Kevin Bacon plays the FBI investigator trying to recapture him. (Creep factor: High.) Midnight Sun at NBC stars Julia Stiles as, yes, another FBI agent, who's investigating the disappearance of a cult in Alaska. (Creep factor: Lower.) And Cult on the CW is about the crazed fans of a TV show — called "Cult," just to make things confusing — who start re-creating the crimes portrayed on the show. (Creep factor: Medium.) Cults, cults, cults, cults, cults.
2. You can go home again
There are three sitcom pilots about moving back in with one's folks: How to Live With Your Parents for the Rest of Your Life starring Sarah Chalke, Untitled Ben Falcone/Larry Dorf Project starring Bridesmaids' Air Marshal Falcone, and Sullivan and Son. Like Father is about a dad moving in with his adult son; Mandy Moore's sitcom is about moving back to her hometown, Cedric the Entertainer's sitcom is about moving back to his hometown, TBS's Best Friends Forever (not to be confused with NBC's midseason comedy of the same name, which debuts next Wednesday) is about a guy moving back to his hometown. Apparently regression and laughter are the best medicines.
3. Can moms have jobs?
Only if their job somehow relates to the lessons they've learned from motherhood. Applebaum, staring Rachelle Lefevre, is about using mom-smarts as a private investigator; Trooper, staring Mira Sorvino, is about using mom-smarts as a state trooper; Penoza, starring Radha Mitchell, is about using mom-and-widow-smarts as an organized-crime queenpin; and Save Me, starring Anne Heche, is about using mom-smarts as a religious prophet. Unfortunately, the smarts don't transfer in the other direction: Mary McCormack's ABC sitcom is about an executive whose life gets turned upside down when she decides to be a stay-at-home mom.
4. Sci-fi and the Supernatural
ABC especially is doubling down on its fantasy programming: On the drama side, they have Beauty and the Beast, Gotham (about a cop who discovers a secret magical world in New York), and 666 Park Avenue (about a building whose residents have all made deals with the devil); on the comedy side, there's Dan Fogelman's untitled single-camera comedy about a suburb that turns out to be inhabited by aliens. NBC has a darker spin, with The Munsters reboot Mockingbird Lane (with Eddie Izzard as Grandpa), the apocalyptic Revolution, and the robot-danger drama Beautiful People. The CW's slate is a little breezier, with its own Beauty and the Beast (which stars Kristin Kreuk in a spin on the eighties show), plus the time-travel romance Joey Dakota.
5. Westward ho?
It's been almost fifteen years since Dr. Quinn, Medicine Woman wrapped up its run on CBS, marking the end of Westerns as a network-TV staple (sorry, Firefly fans, we don't consider anything with spaceships a pure oater). Since then, the genre has largely been left to cable, via the likes of Deadwood and Hell on Wheels. But maybe broadcasters are ready to get back into the saddle again. NBC has recruited West Wing director Thomas Schlamme to head up The Frontier, writer Shaun Cassidy's hour about folks moving west in the 1840s. And over at CBS, the Eye is doing a slightly more modern Western: It's got an untitled hour set in mid-century Las Vegas, when a powerful man named Ralph Lamb ran the city — back then, pretty much a cow town — as sheriff during the fifties and sixties.
6. J.J.'s Kids
Big names from a pair of past beloved shows co-created by J.J. Abrams are finding work this pilot season. Just about everyone from Felicity, for example, seems to be landing a gig: Scott Speedman is in Shawn Ryan's ABC hopeful The Last Resort; Scott Foley is one of the siblings in Fox's The Goodwin Games; and Greg Grunberg has a part in a Greg Berlanti comedy at CBS. Keri Russell is also possibly headed back to TV, but she's going with cable this time, working on FX's eighties-set spy drama The Americans. Meanwhile, the Lost alumni keep landing work: Terry O'Quinn is set to be all creepy for ABC's 666 Park Avenue, while Yunjin Kim is one of the stars of the network's soapy hour Mistresses. Ken Leung (Miles!) is set to be a regular on NBC's Sarah Silverman sitcom, while Maggie Grace is part of the ensemble for Fox's cult-themed Kevin Williamson drama.
7. Sitcom vets
Tim Allen's return to ABC hasn't exactly been triumphant, but he's done well enough with Last Man Standing to inspire the nets to make a play for a whole bunch of Clinton-era stars. Not surprisingly, Allen's old ABC schedule-mate, Roseanne Barr, was one of the first to land a comeback deal: She's reuniting with ex-TV hubby John Goodman for NBC's trailer-park-set Downwardly Mobile (or as we at Vulture like to call it, Downward Abbey). The Peacock is also welcoming back Matthew Perry for Go On, in which he'll play a sportscaster in group therapy (Hi, Bob!). Over at CBS, Martin Lawrence is WZUP: He's a widower trying to become a cop. (Nineties bonus: The pilot will be directed by Fred Savage.) CBS, which loves it some legends, is going a little further back for its casting: It has Judd Hirsch and Andrea Martin in the Ben Falcone show about the dude who moves back in with his parents (see pilot trend No. 2). Finally, ABC's got Everybody Loves Raymond mom Doris Roberts in the sister comedy Counter Culture and her TV son Brad Garrett in How to Live With Your Parents for the Rest of Your Life. The latter also features Roseanne and Scrubs alum Sarah Chalke. Also at the Alphabet: Reba McEntire (and Lily Tomlin!) in the Beverly Hillbillies–esque Malibu Country, Designing Women belle Jean Smart in The Smart One (it's not autobiographical!), and Leah Remini in a remake of the U.K.'s White Van Man.
8. A drop in crime
It's a tough time to be a TV cop: We're down to just one Law & Order and there's a good chance one of the CSIs will disappear next season. Attempts to freshen up the crime drama this season mostly fell flat, with Prime Suspect and Unforgettable going nowhere fast (Person of Interest did well, but it's more of a mystery thriller). This may be one reason why ABC, Fox, and NBC are largely steering clear of the cop drama. But the streets of TV land must be kept safe, and crime-friendly CBS is taking the lead. Its most ambitious contender is the Holmes-inspired Elementary,* starring Jonny Lee Miller and Lucy Liu; the Eye is also enlisting CSI vet Carol Mendolsohn for Widow Detective, about a cop (John Corbett) who takes care of the families of fallen comrades, and Golden Boy, about a young cop who suddenly finds himself police commissioner. And it wouldn't be a pilot season without a Jerry Bruckheimer–produced cop show: He's behind Trooper, in which Mira Sorvino plays a mom who ends up a New York State Trooper.
9. Soaps
Revenge is apparently a dish served over and over again, at least judging by network development grids, which are chock-full of potential soap operas. ABC's lathering up the most, with nearly a half dozen sudsy projects. Desperate Housewives creator/former defendant Marc Cherry is behind the self-explanatory Devious Maids, a telenovela revamp starring daytime queen Susan Lucci. Fellow sudsmeister Shonda Rhimes is producing Gilded Lilys, a Downton Abbey–ish turn-of-the-(twentieth)-century drama about New York's first luxe hotel. Also in the works at ABC: Fashion-themed Americana, the music-themed Nashville (Connie Britton stars), and Chad Michael Murray in a reboot of the seventies miniseries Scruples. Over at NBC, John Wells is adapting overseas women-in-prison soap Bad Girls, while in Notorious, a female detective goes undercover, trying to blend in as the maid's daughter in order to infiltrate her rich family's secrets and solve the murder of a onetime friend. This doesn't sound like Revenge at all!
* This post has been corrected to reflect the accurate title of CBS's Sherlock Holmes pilot.