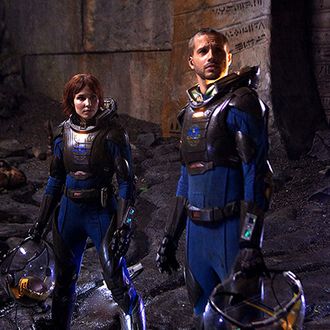 Noomi Rapace, Logan Marshall-Green.
In a summer full of highly anticipated tentpoles like The Dark Knight Rises and The Avengers, film geeks may still be most anxious for Prometheus, the semi-prequel to Alien and Ridley Scott's first sci-fi film since the seminal Blade Runner. Over the weekend, a veritable flood of new Prometheus material came online thanks to the film's presence at WonderCon, but which of these many teasers, trailers, and viral videos are right for you? Vulture is here to help: We've collected six of the most important Prometheus promos and evaluated them for spoiler potential and Charlize Theron screen time. We know that your heart is about to leap out of your chest, Alien-style, but hopefully these will tide you over until the film comes out on June 8.
Teaser Trailer
What's it like? The teaser is a minute-long, BRAMM-scored collection of some of the film's biggest sequences, devoid of any narrative thread.
What's the biggest "wow" moment? Noomi Rapace's character fleeing a giant alien ship as it crash-lands on the mysterious planet's surface.
Is it spoilery? Although this is the teaser trailer, it actually might be the most spoilery of them all: There's a whole lot of death and drama from the "shit goes down" portion of the movie, and if you're the type who remembers all the split-second images from a trailer and then dutifully awaits them while watching the actual movie, this is going to give you plenty to put on your checklist.
How much Charlize is there? A little bit, and she's unclothed in both her big moments: We glimpse her running down a corridor while stripping off her spacesuit, and there's also a shot of her doing semi-nude push-ups.
IMAX Trailer
What's it like? Akin to the teaser trailer in length, but with a bit more setup of the crew peacefully landing their ship and exploring.
What's the biggest "wow" moment? The "wow" moments here are all notably low-fi: Noomi Rapace clasping her hands together in desperate, supplicating prayer, or Logan Marshall-Green examining his bloodshot eye to see … what, exactly? They're great trailer moments, because instead of revealing too much, they seem to raise even more questions. (That could be considered the addictive specialty of the film's co-writer, Lost mastermind Damon Lindelof.)
Is it spoilery? A little bit: There's a whole lot of literal infighting among the crew, and one pretty close-up death. The eagle-eyed may notice some ultrabrief shots that would appear to include xenomorphs from the original Alien series.
How much Charlize is there? Very little, though there is one unnerving first-person shot where Theron appears to be standing stock-still, Hannibal Lecter–like, as someone turns a hallway corner.
Full Theatrical Trailer
What's it like? Finally, we get some story: Rapace and Marshall-Green are lovers who've found the same pictogram in several ancient ruins on Earth. They intuit that it's an invitation to explore humanity's beginnings, though on the planet it leads them to, a plan is set in motion that may destroy Earth.
What's the biggest "wow" moment? In a trailer full of large-scale sci-fi eye candy, the most intriguing moment comes near the end, when a bipedal alien appears to advance on Rapace.
Is it spoilery? In the sense that it establishes some plot parameters, yes. But out of all of these trailers, it may give away the least from the "shit goes down" portion of the movie, instead focusing on two key sequences: the initial exploration of the alien planet, and the plates of the planet surface ominously pulling apart in tandem.
How much Charlize is there? A fair amount, and she narrates the mysterious beginning of the trailer, where some godlike extraterrestrial surveys a magnificent waterfall.
U.K. Trailer
What's it like? Significantly different than the U.S. version, this trailer does a far better, longer job of establishing who Rapace and Marshall-Green are and why they're doing what they're doing. It may scrimp in the trailer-ending flash-cut department, but it's actually better for it.
What's the biggest "wow" moment? That epic sand-storm cloud rushing toward the crew of the Prometheus. Take that, Mission: Impossible - Ghost Protocol.
Is it spoilery? Not very.
How much Charlize is there? You get a couple more shots of Charlize looking concerned/peeved.
TED Talk
What's it like? The first clip from the film's viral marketing campaign, this "TED talk" video features Guy Pearce as Peter Weyland, founder of the all-powerful Company that spurs many of the missions in the Alien series.
What's the biggest "wow" moment? "Wow, TED kinda sold out."
Is it spoilery? Not at all. It's a well-produced extra that simply hints at the movie's theme.
How much Charlize is there? None.
David 8 Video
What's it like? A faux ad meant to promote a new line of androids.
What's the biggest "wow" moment? Fassbender springing to life after an infusion of white android blood.
Is it spoilery? Only if you're unaware that Fassbender plays a robot in the movie … but since the marketing campaign is touting that, it doesn't seem like much of a plot point.
How much Charlize is there? None, and nobody must be sadder about that than Theron herself, since she joked appreciatively about Fassbender's full-frontal Shame role at a Human Rights Campaign gala this past weekend. "Your penis was a revelation," she said from the stage. "I'm available to work with it anytime."