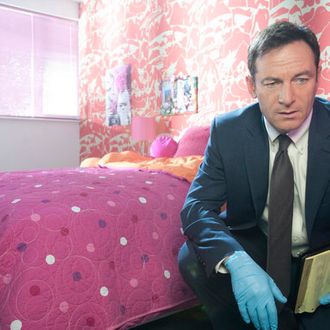 Jason Isaacs in Awake.
Photo: Lewis Jacobs/NBCUniversal
Awake is no Lone Star, but it's far from a hit, either. NBC's latest Kyle Killen–created drama debuted Thursday to an audience of roughly 6.2 million viewers and averaged a 1.9 rating among adults under 50. This is about 50 percent better than Lone Star's 2010 debut, which only lured 4 million viewers and was canceled a week later. But is it good enough to last on NBC?
You'll need a lot of hands to sort through the pros and cons for Awake's debut. Con: Last night's numbers pretty much match the performance of NBC's other big 10 p.m. Thursday drama debut this season, the hat-tastic Prime Suspect, which bowed in September to 6.1 million viewers and a 1.8 demo score. That was considered very disappointing, and the show eventually died.  And yet, pro: While Prime had the advantage of a strong lead-in from the highly rated series premiere of Whitney (debut demo rating: 3.2), Awake was preceded by the funnier, but much weaker, Up All Night (demo rating last night: 1.6). That means it built on its lead-in, while Prime took a tumble. Also, Awake drew more viewers than anything else on NBC Thursday by a mile: Save The Office, NBC's sitcoms all drew under 4 million viewers. But back to con: Awake lost a good chunk of viewers during its hour, starting out at a 2.1 demo, then dropping down to a 1.8 by 10:30 p.m. It also faced repeat competition on ABC and CBS, whereas Prime went up against all-new fare. All in all, we'd say Killen's latest creation managed to exceed very modest expectations with its debut, with NBC showing that it still can at least bring a few eyeballs to check out its new shows. Now the Peacock just has to convince folks to stay Awake.