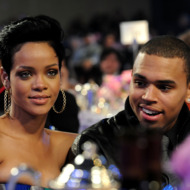 Though many, many words have been written about Rihanna's decision to record two songs with her abusive ex-boyfriend, the singer herself hasn't commented on the Chris Brown remixes — until today. Rihanna called into Ryan Seacrest this morning, and after seven minutes or so of diet talk, he did in fact ask her about the songs. Predictably, Rihanna played it as a career decision — "just as a musician, despite everything else, that was going to be the person" — and aside from a brief assertion that "there shouldn't be a divide" between her fans and Brown's, she made almost no acknowledgement of the personal issues or controversy at hand. Seacrest, being himself, did not push for a follow-up. The full text, below:
"The first song that came about was 'Birthday Cake.' I mean we ended up recording them at the same time and executing them together, but I reached out to him about doing 'Birthday Cake' because that's the only person that really — it made sense to do the record. Just as a musician despite everything else that was going to be the person. You know I thought about rappers, and I've done that so many times, and the hottest R&B artist out right now is Chris Brown. So I wanted him on the track, and then in turn he was like 'Why don't you do the remix to my track?' and it was a trade off. We did two records. One for my fans. One for his fans, and that way our fans can come together. There shouldn't be a divide. You know? It's music, and it's innocent."
It's hard to believe that the "innocent" comment won't rankle a few people, but otherwise, this is pretty much how we'd imagined her explanation to go (strictly professional, attempting to change the conversation, etc).  Is it enough? Related: are you actually listening to "Birthday Cake," or has the controversy nipped that hit in the bud? Discuss.