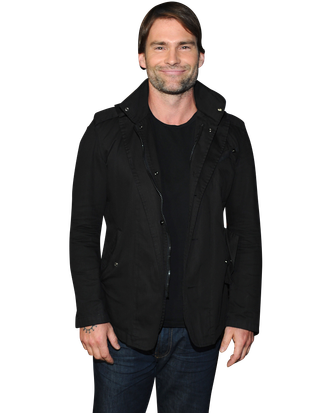 Seann William Scott.
Photo: Alberto E. Rodriguez/Getty Images
Seann William Scott, an avowed Rangers fan, plays a hockey "enforcer" with a heart of gold in the sports comedy Goon. His job is not to shoot the puck or hit a goal, but to protect the players on his team, which leads to a lot of fights. Luckily for Scott, who will be back soon as former jock/perpetual party boy Stifler in the upcoming American Reunion movie, the role didn't require him to actually be good at hockey — just acting. Scott chatted with Vulture about his career goals, what would happen if he ever won an Oscar, and binge-watching The Bachelor.
Hi.
Hi. Do you mind if I record this?
You can record it all you want — I'll record it, too!
[Laughs.] I've just been watching Judge Judy, and I've learned I should have a record of everything I say, so when I read this, you don't make me out to be racist.
That's the concern?
[Laughs.]
In the video interviews you've done for Goon in the U.K., you would start off by asking each reporter if he or she also wrote the review. Do you usually read your reviews?
This movie, I did. I was nervous, because the character is so different for me. I'm known to play the antithesis of guys like this, and I was worried about the dichotomy of him being so sweet and yet so violent. So when I heard the U.K. reviews were good, I was shocked; I didn't think they would dig it as much because they're not huge hockey fans. I don't generally do movies that get good reviews. That's why I was like, "Wow! I'm getting good reviews?!"
A lot of the movies you do are what they call "critic-proof."
Right. Almost all the comedies. You know, I've always wanted to do dramas. When I moved to L.A., that was my dream, because I never really grew up watching comedies, although of course I loved Dumb & Dumber. There are certain comedies when you're a kid you can't help but love. When American Pie happened, I was so lucky to get that opportunity and I just tried to do a good job in that genre. But the films that inspired me as a kid were, like, Malcolm McDowall in A Clockwork Orange. He was my hero. I thought, Wow, I want to be like that guy. I always liked things that were pretty dark. That's why I loved this movie. I've always played a variation of the aggressive party guy. And for this, it was like, Wow, this is a real character. I think I would do a much better job if I had a chance to do things that were edgier than I get to do in comedies.
It's the Albert Brooks dilemma. It took Drive for some people to realize he could really act.
I know! It was just pathetic, because he was acting before, just in a different genre. I don't stress about it as much anymore. I don't know if it's that I lack the drive to really pursue the kind of movies that I typically watch. But I had a great time doing American Pie 4, which I never would have thought I would have done after 2003.
The American Reunion movie was your idea?
Yeah! It was funny, three years ago, I said, "This could be a lot of fun." Just the idea of a high-school reunion seemed great. And I had so much fun working with these guys again. If all I ended up doing was this, I'd be fine with it, too. But it would be awesome to play a role like Eric Bana in Chopper, or Tom Hardy in Bronson. I remember reading reviews for Crazy, Stupid, Love and they're like, "Ryan Gosling's funny!" Why is that a surprise? How many dramatic actors are probably way funnier than comic actors, once they're given that chance, you know? But listen, Melissa McCarthy's Oscar nomination changes the game dramatically. I mean, her character took a shit in the sink, and she was nominated! That's awesome! I opened the door for her, you know? I drank beer with jizz [in American Pie], I ate dog shit [in American Wedding] …
And your character takes a shit in a cooler in the upcoming American Reunion …
… which would be seen as kind of a rip-off now, like I'm following her shitting in the sink. But she's great. Can you imagine if [my performance as] Stifler had been nominated? Then I think people would completely stop watching the Academy Awards! [Laughs.] Can you bet? Can you gamble in Vegas on the Oscars?
Yep.
Really? Can you bet on who the bachelor is going to pick on The Bachelor? He's totally picking Courtney. [Editor's note: This interview took place during week eight of the competition, and two weeks later, Courtney Robinson did in fact win.] Do you watch The Bachelor?
Nope.
Listen, I'm not staying at home watching reruns of The Bachelor, but I did purchase whole seasons on ITV because my girl [Victoria's Secret model Lindsay Frimodt] was going to college — not my girl, my girlfriend [now fiancée]. So I watched an episode of The Bachelor because I had nothing to do, and I was like, "What is this shit? This is awesome!"  
You gained 30, 35 pounds for Goon? 
35 pounds of muscle! [Laughs.] It looks good in the movie, but man. It was pretty easy to gain, actually. It was just eating a little … okay, a lot more than I was used to. And I had to stop running. What I love doing is taking my dog for runs. I didn't realize you could do this, but there's this whole thing called the World Wide Web, and you click on this Google thing, and you can find out anything. [Laughs.] So I put in "jogging routes" and I take my Lab and we just run around. One of our favorite runs is the West Side Highway, the whole loop around. We get pretty tired after that one. It's kind of like Frogger, when you see people run with dogs. I'm a big people-watcher. I love it. But I feel bad about it, because I always get caught! They're like, "What are you looking at?" "I was just watching you because you're really weird." I love to people-watch, and I just love to walk around the city.
What are some of your favorite places? Not to invite stalkers …
Oh, I invite stalkers. Anyone who wants to stalk me, stalk me, because I want to know what it's like. I want to feel what it's like to have a stalker. Maybe I should do that for Selena Gomez: "Hey, just tell your stalkers to come my way." [Pretending to speak to stalkers.] You can hang out with me. We can watch TMZ together. Or The Bachelor.