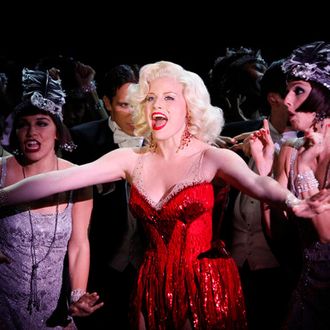 SMASH – "Let's Be Bad" Episode 105 – Pictured: (Center) Megan Hilty as Ivy Lynn – (Photo by: Will Hart/NBC)
Photo: Will Hart/2012 NBCUniversal, Inc.
NBC has renewed Smash for a second season, the network announced today. This is a good thing! Smash is fun, but it still doesn't quite have its head screwed on straight — it looks like a confident, capable high-end drama, but right now it's actually just a fancy show in search of a good story to tell. The most pressing issue is that Smash hasn't figured out what its central relationships are: The rivalry between Karen and Ivy? (Gosh, we hope not.) Everyone's loyalty to Anjelica Huston? The creative partnership between Debra Messing and that guy? Or the adulterous partnership between Debra Messing and that other guy? Is it the complicated romance between Ivy and her director? C'mon, Smash, do as Oprah says and live your best life.