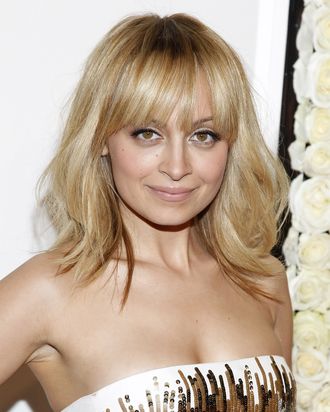 BEVERLY HILLS, CA - FEBRUARY 23: Nicole Richie attends "The Buzz On The Red Carpet" presented by QVC at Four Seasons Hotel Los Angeles at Beverly Hills on February 23, 2012 in Beverly Hills, California.
Photo: Joe Kohen/Getty Images
As Sofia Coppola continues to cast her new movie The Bling Ring, based on the true crime story about a group of fame-hungry teens who broke into the mansions of Paris Hilton, Lindsay Lohan, and Megan Fox, the folks over at the Playlist got their hands on Coppola's slim script. Their most important discovery: The movie opens with a "knowing quote" from Nicole Richie's Twitter. Well, she does have a good Twitter! (Recent sample tweet: "Just got to Miami and Will Smith DID NOT pick me up in his ride with the top down. This is bullshit.") Also crucial? Leslie Mann is in the movie as the former Playboy model mom to Emma Watson, and her first line is, "Girls, time for your Adderall!" Yes, well, give us this movie now, please.