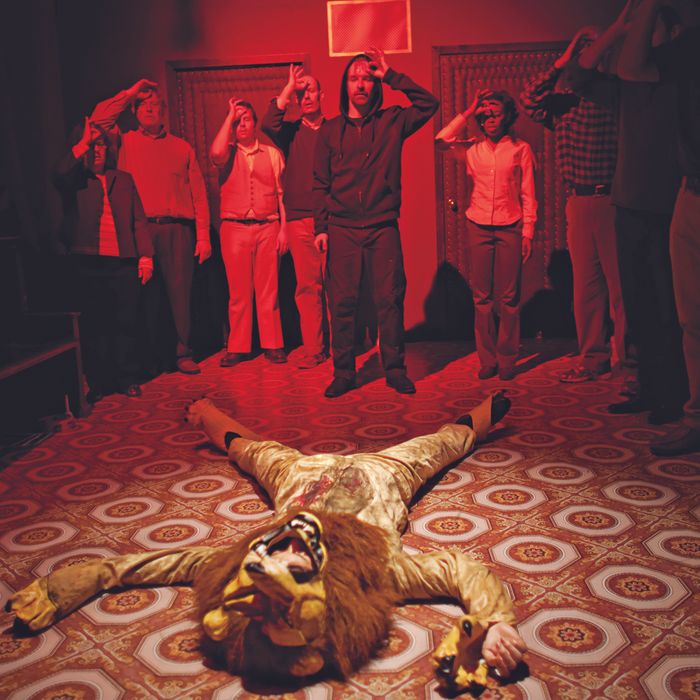 All Hands (at the Incubator Arts Project through March 31)
Hoi Polloi (the hip interdisciplinary troupe behind last year's Three Pianos) returns with a bizarre seriocomic rite: All Hands, a bemused, slightly spooky (but never snide or arch) look at secret societies and the human hunger for inclusion, conceived by HP founder Alec Duffy and written by Robert Quillen Camp. The stuffy Incubator Arts Project space (former home of Richard Foreman's Ontological-Hysteric Theater) has been transformed by scenic artist Mimi Lien to suggest a Masonic lodge: pews in long, facing galleries with a gauntlet down the middle. Here, an unnamed organization — an ad hoc amalgam of Shrinerism and AA — conducts its half-huggy, half-abusive rituals, recruits and initiates new members (all called "Henry"), and, occasionally, listens to its members use the bathroom via hidden microphones. No single character dominates and no single story emerges — it's all about the group — and, incredibly, no judgment is passed, one way or another. (I'm not spoiling anything by revealing that the show, after several episodes of violence — implied, staged, or actual — ends with random palaver and breaking of bread: the lowing and cud-chewing of human fellowship, in all its dank warmth and deep weirdness.) But Dave Malloy's atmospheric choral compositions and Dan Safer's witty choreography keep us invested, seduced and threatened, all at once.
The Maids (playing the Theatre at St. Clement's though April 1)
In Jean Genet's classic hall of mirrors The Maids, the fog of class war hangs, thick and lavender-scented, over the action: Claire (Jeanine Serralles) and Solange (Ana Reeder) conspire to murder their hated mistress (J. Smith-Cameron), but can't quite pin her down, even in a closed boudoir. Domination may be nothing more than a social construct — it all depends on who's wearing what — but that doesn't make it any less difficult to resist or combat. Quite the contrary: It's like striking at a dissolving phantom. Complicating matters further, Claire and Solange have been role-playing the master-and-servant game for so long — wearing Madame's dresses, giving each other orders — that they can barely tell enemy from accomplice. Director Jesse Berger and set designer Dane Laffrey have placed the audience in banks on either side of the enclosed, gauntlet-like set, where we peer at the actors — and each other — through what feels like an interrogation room's one-way glass. It's a nice idea, but it has the unintended effect of making us all feel quite safe, cozily sequestered from the killing floor. The detachment seems to have spread to actresses, as well. (Genet intended the parts to be played by men, but that's neither here nor there.) Reeder and Serralles create several layers of confusion, like good postmodernists, to put distance between us and mere sentiment. But distance feels too much like the governing philosophy of this production: A great crime is unfolding, and we sit there guiltless and bemused. This Maids is full of mirrors, but we're not made to see ourselves in any of them. Maybe this is just the Craigslist in me talking, but when I pay to be locked in a room with a French maid, I expect real abuse.