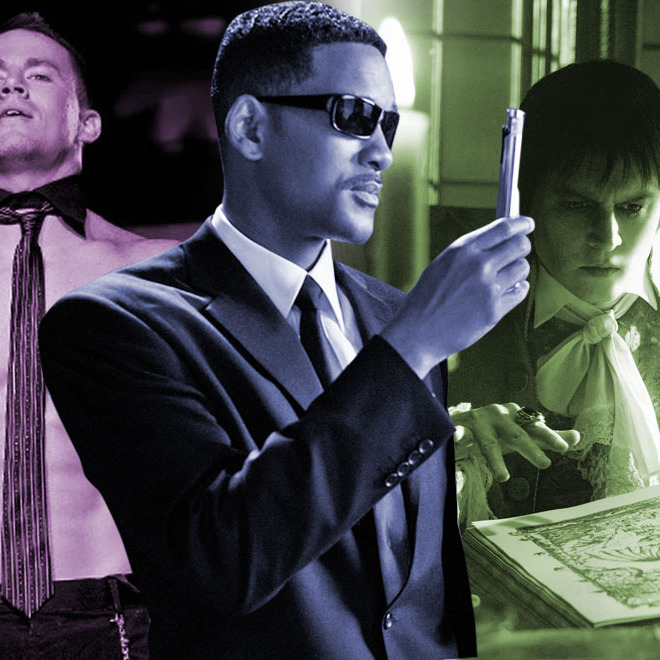 Magic Mike, Men in Black 3, Dark Shadows
Photo: Columbia Pictures, Warner Bros.
This summer movie season has one of the surest of all sure things — The Dark Knight Rises, a highly anticipated sequel to one of the biggest movies of all-time — but aside from that, there are all sorts of oddities that will be vying for your box office dollar. Even the so-called sequels and prequels (like Prometheus, the sorta-prequel to Alien, and The Avengers, the culmination of several Marvel movies) feel like new properties, and there are a whole bunch of unusual and alluring films on the summer schedule: A sex-filled Oliver Stone movie … in July? A big R-rated summer comedy where Mark Wahlberg talks to a stuffed animal? Tom Cruise as a shirtless rock star? But as much as we're anticipating Savages, Ted, and Rock of Ages, respectively, there are six other questions raised by this summer's big movies that really have us scratching our heads.
Do People Still Care About Will Smith?
The common wisdom still holds that Will Smith is the biggest superstar in the world, but A-listers rarely take a break from movies this prolonged: Smith hasn't been seen onscreen since the underperforming 2008 drama Seven Pounds. Instead, he's been behind the scenes managing the careers of his children Jaden and Willow, and while that's been going pretty well, has he frittered away his own star power in the meantime? We'll see whether Smith can recapture the magic with Men in Black 3, but it's a gamble: The film was famously shut down several times during production owing to story issues (some of which were instigated by the star himself), and this musty franchise was already losing steam ten years ago, when Men in Black II grossed $60 million less than its predecessor.
Will Adam Sandler Take an R-Rated Hit?
Adam Sandler has gone his whole career without making a sequel, yet word came down the pike recently that he had signed for Grown-Ups 2. Why the sudden interest in the job security of a franchise? Maybe he's looking for a sure thing after two gambles: His usual grosses dropped for last fall's Jack and Jill, and this summer, he's testing his own brand with the R-rated comedy That's My Boy. Though Sandler has moonlighted in R-rated movies from auteurs like Paul Thomas Anderson and Judd Apatow, this is actually the first time in his career that he's toplining a typical "Adam Sandler movie" — meaning, it's populated by Nick Swardson and a whole bunch of Saturday Night Live vets — with so restrictive a rating. Sony is trying to sell the film as another pre-wedding Hangover gross-out, but how will Sandler do without his carefully cultivated family audience?
Can Abraham Lincoln: Vampire Hunter Succeed Where Cowboys & Aliens Failed?
It's hard to course-correct in Hollywood! Last spring, when Abraham Lincoln: Vampire Hunter was green-lit, we hadn't yet seen another genre mash-up that played things straight despite a wacky title: Cowboys & Aliens. Alas, Jon Favreau's expensive extraterrestrial Western crash-landed that summer, and now Vampire Hunter has to soldier on with a brave face, despite its much weirder premise and total lack of A-listers on the level of Daniel Craig and Harrison Ford. It's coming out during a crowded weekend in late June — Vampire Hunter has to face Pixar's Brave, the Steve Carell comedy Seeking a Friend for the End of the World, and Woody Allen's Midnight in Paris follow-up To Rome With Love — so can it woo away enough moviegoers willing to say "Abraham Lincoln: Vampire Hunter" out loud at the ticket counter?
Why is Dark Shadows Up Against The Dictator?
You can't quite blame Paramount for scheduling The Dictator on May 11, where it will face off against Tim Burton's Dark Shadows; once upon a time, the studio probably expected it to be effective counterprogramming against a Gothic vampire fright fest. Since the Dark Shadows trailer debuted, though, it's become clear that Burton has actually made a super-weird comedy out of the source material — it might be way weirder, even, than a Sacha Baron Cohen comedy that purports to be based on a novel by Saddam Hussein. In a head-to-head matchup, we'd give the edge to the Johnny Depp–starring Dark Shadows, but both of these curveball comedies could benefit from some breathing room.
Is Magic Mike a Summer Movie?
Magic Mike is most certainly a Vulture movie: We've followed every development on this unusual film, ever since Steven Soderbergh stocked his male stripper movie with the likes of Channing Tatum, Matt Bomer, and Matthew McConaughey. But then Warner Bros. acquired the R-rated dramedy and set it for release in June, where it will actually go up against Tatum's G.I. Joe: Retaliation (though his role is significantly reduced from the first Joe installment). Last year's summer movie season was admittedly full of beefcake, but does the studio think that this nude-a-palooza has breakout potential?
Have Spider-Man and Bourne Been Rebooted Too Soon?
No stars? No problem! The directors and actors bailed on two of Hollywood's biggest franchises, Spider-Man and Bourne, but you didn't expect the studios to simply give up and go home, did you? Five years after both those trilogies were dealt a star setback, each hopes to reboot this summer with less costly talent: The Amazing Spider-Man has Marc Webb directing with Andrew Garfield in the lead role, while The Bourne Legacy has subbed in Jeremy Renner for Matt Damon. Hollywood often frets about the lowered durability of modern-day stars, but when they're willing to treat the franchise as a bigger attraction than the people in it, can that really come as any surprise? Spider-Man may do all right through sheer dint of its masked superhero — he could be anybody! — but Bourne has it tougher, going up against the FX-driven remake of Total Recall. It's going to be a close-quarters fight between the two … though given the Bourne aesthetic, that's probably fitting.