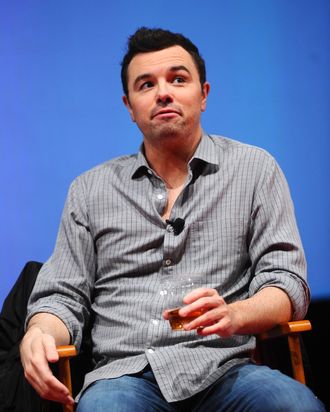 Photo: Michael Buckner/2012 Getty Images
Speaking at South by Southwest, the creator of Family Guy, American Dad!, and The Cleveland Show reassured the audience (and attendant press, including the Huffington Post), that they can all still expect the sweet nostalgia of having Wilma and Fred "Yabadabadoo!" Flintsone back on television. Sadly, Macfarlane, who is currently wrapping up the pilot rewrite, wasn't quite ready to reveal any early story arcs or visual updates, except to say it'd be a "little more current."
There's really not a lot about that show — other than the references to 1960s America, which really come through in the writing more than the visual — that needs to be changed visually and stylistically.
But that doesn't mean it's error-proof material, so care is still needed.
It's like being handed the keys to a very old expensive car. You want to be careful not to be Ferris Bueller with it. It was the first thing I drew, when I was two years old. It's a nice, full-circle thing. My thought was, I can't [screw] it up any worse than Viva Rock Vegas.
We sure hope he's right about that last bit.