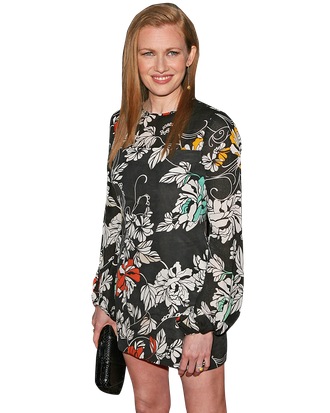 Mireille Enos.
Photo: Jesse Grant/WireImage
Mireille Enos got her break playing twin sisters JoDean and Kathy Marquart in Big Love, but today she's best known for her role as Sarah Linden on The Killing. As a detective tracking down the killer of teenager Rosie Larsen, Enos has already scored an Emmy nomination, but she's also had her first taste of fan backlash. When last year's season one finale failed to reveal Rosie's killer, viewers revolted with a vengeance. They expected a resolution, not a cliffhanger. Enos spoke to Vulture about the haters, season two, and all the gum chewing.
After seeing the premiere, all I can say is, "poor Callum Keith Rennie [who plays her neglected fiancé]." At this rate, he's never going to get a scene that's not on a telephone, is he?
Oh, poor Callum. Poor Callum. Well, you might see his face.
I have to say, you must have jaws of steel from all the gum-chewing Sarah does on the show.
Actually, it's true that days where I'm shooting scenes where I chew gum, my jaw gets so tight. It's crazy. I don't know how people chew gum all day long.
Is it in the script, or do you just get out the gum when it feels right?
It's mostly in the script, and then occasionally I ask for it.
Sarah starts season two with the realization that her partner, Holder, double-crossed her. Is it weird to be at odds with him when you've been buddies for thirteen episodes?
Yeah, it feels heartbreaking because the trust was so hard-gained. So to be thrown back, not even to the beginning but into this weird place of betrayal, is so sad for both of us.
Season one premiered almost exactly a year ago. I imagine a year ago you were a little nervous about how the show would be received.
Exactly. Now we have the experience of having been received really well, so that allows us to breathe a little easier. Artistically, we still have to show up every day and try to do the best job we can, telling that day's story. So it's not like we feel like we can rest on our laurels, but at least we know that the formula works.
But there was the intense backlash after the finale. Did it feel like a slap in the face at all, to hear fans turn on the show so vehemently?
No, it didn't. I think it only showed how much heart they had for the show, and I think all of that is going to get redirected into positive feelings in the second season.
Did you understand where the fans were coming from, even if you may have disagreed with them?
I feel bad if anyone felt misled. I think the thing that is amazing about the show is the character development, and it seemed clear that if you love these characters, you would want to spend more time with them. So it was a little confusing to me that so much focus at the end was put on having an answer instead of the development of the story.
How far are you into shooting season two?
Episode eleven. Almost done.
Do you know who the killer is at this point?
I do not.
Do you have any favorite episodes so far?
Veena [Sud], the writer-creator, directed episode eight this year, and that was a really awesome experience. She's a wonderful director and it was so fun having her with a different hat on.
Sarah is such a stoic character, and many of your scenes are understated. I'm curious which season-one episode was submitted for the Emmy nomination?
The episode where my son goes missing. I think it was really smart to, that deep into the season, suddenly have an episode where you see into these people's personal lives.
You're in World War Z and Gangster Squad, which are your first movies. Can you tell us about your characters?
World War Z focuses on a family — a husband and wife and their two girls, who are on the run and trying to survive. And I play the wife in that family. And Gangster Squad is based on the true story of Mickey Cohen, who was this Los Angeles gangster in the forties. There's a police officer who takes him down, and that character is played by Josh Brolin, and I'm his wife.
You play the wife to a male lead in both movies. Not quite as challenging as playing the lead in an AMC crime show, I'm assuming?
It's challenging in other ways. Every role that you play comes with its own set of challenges. World War Z is an action movie. It's more than that, but a lot of it is action, so the challenge there was how to keep these people grounded in truth and dealing with the real circumstances instead of just running down the street. And in Gangster Squad, you're telling the story of real people. My character is pregnant in this film and the real person who was that baby came to the set. So that's a challenge, trying to honor those people.
I noticed you didn't say you're playing Brad Pitt's wife in World War Z. Do you usually get a lot of reactions when you mention that?
He's a wonderful, wonderful guy and was fantastic to work with, and has an incredible work ethic.
Are you tired of questions about him, though?
No, I mean — no, I'm not tired of questions about him. I think something that I kind of guard against is there's this kind of — people go to this place of [in high-pitched voice] "Ooooh, Brad Pitt!" And the truth is he's married and — well, whatever, he's partnered and has a family and I'm married and we're actors and it was great to work with him. And that's that!