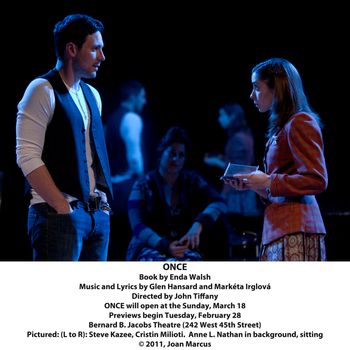 Steve Kazee and Cristin Milioti in Once.
Once (at the Bernard B. Jacobs Theatre)
We defenders of Once have a lot to answer for. After all, any thinking grown-up can mount a frontal assault on this show, a brazenly twee stage adaptation of the 2006 crypto-movie-musical — itself hardly immune to a critique of half-concealed too-cuteness. Shot guerrilla-style and starring real-life rockmates Glen Hansard and Marketa Irglova as down-at-the-heel musicians who meet cute on the street-busker scene in Dublin, Once: The Movie is basically The Blair Witch Project for Youtroubadours — all the old familiar cheese, served in the artfully crumpled newspaper of vérité. Imagine if this same story had been set and shot in Williamsburg, Brooklyn, without the accents and the international flavor. It would've been deemed insufferable. (And barfed immediately out of American theaters by the very hipsters it was designed to hook, no matter how earwormy its soundtrack.)
But that's exactly why I prefer the clumsier, more explicit puppydog charms of Once: The Stage Musical. Yes, the show retains the film's relentlessly self-congratulatory backbeat, its faintly desperate overpraise of any and all autumnal folk-rock emitted by The Guy (Steve Kazee) — to whose diamond-in-the-rough genius every character must systematically genuflect — and its insistence on the faerie magic of The Girl (Cristin Milioti), chief facilitator of The Guy's delayed artistic apotheosis and the manic pixie dream girl to end all manic pixie dream girls. (Finally, this much-abused character has come home to her natural environment: a stage musical about quirky, earnest young musicians. Welcome … to Gig-adoon!) And yes, the supporting ensemble — with their matted, superfluous subplots grown out to extend the running time to a probably unnecessary two acts and two-hours-plus — is a gang of adorable misfits so strenuously Muppetlike, you can practically see the felt stitching. (The entire second act could be retitled The Electric Mayhem Goes Emo.) Once is three chords and endless manipulations.

But oh, to be young and manipulable! Even bloated to Broadway proportions (an unnatural fit with the show's pubby intimacy and, occasionally, with its shakily scaled-up acoustics), Once returned me — nearly against my will — to my youthful fields of blarney. (If ever a show needed younger audiences, perhaps even at the expense of its bottom line, it's this one.) Perhaps that's no surprise, given the creative talents assembled here. I'm already on the record as a sucker for the dreamy choreography of Steven Hoggett (who is again partnered with Black Watch director John Tiffany), and I have bottomless admiration for Enda Walsh's book, which expands (even overexpands) a minimalist screenplay into a richly textured stage environment, polka-dotted with humor and meditations on Irish pride. Finally, we come to Kazee and Milioti, performers of tremendous appeal, each equipped with a soulful, heart-cracking wail and a counterbalancing sense of humor. (Kazee is a sorcerer of sexily recessed charisma, while Milioti disguises a repetitive and potentially irritating character as a rom-com masterpiece. She might be a bit of a genius.) You've seen these types before, perhaps too often. But these two more than freshen things up — they present the credible illusion of a First Time. They make us forget, for hours at a stretch, that we're watching a show that's simply falling slowly in love with itself.

Lifeline (at the Abingdon Theatre Company through April 1)
Ken (Brian Wallace) is going through a bad patch with his wife and needs to rent a room. Pete (Buzz Roddy), a hard-bitten divorcé and a soft touch, has a furnished basement and a lot of empty space in his heart. So unfolds Frank Tangredi's simple, downward-spiraling little tale of givers and takers, male bonding and misplaced trust. There are a few big revelations, but no real wrinkles here: Tangredi, who has a nice ear and working internal metronome, shows himself more of a carpenter than an architect. This is the classic story of one character's cruel disillusionment at the hands of another. But Wallace and Roddy — two very different male energies, colliding — generate a musky chemistry that fills the Abingdon's tiny June Havoc space with clear and present danger. 

That Beautiful Laugh (at the Club at LaMaMa through March 25)
Orlando Pabotoy's out-of-a-suitcase clown show features Alan Tudyk, a talented character actor and expert shaper of doofuses, best known for his work on Firefly and Suburgatory. Flanking him are Julia Ogilvie and the beguilingly odd Carlton Ward. Together, they play three red-nosed stooges striving to bring laughter back to a world that's lost it. They do this in straightforward clown fashion: with deft physical comedy (Ward's "dahn-gerous" stunts are especially appealing/appalling), poor theater, and poignant foibles. (When a tiny, fragile red egg appears as a supporting character, hold your breath: Tudyk is properly renowned as a jerker of tears.) At 70 minutes, this winning little wisp of a late-night show is exactly the right size for the Club its nested in. Nerdy bachelorette parties, of the sort that prize well-won tears over midori sours and clown-noses over banana hammocks: Check this one out.