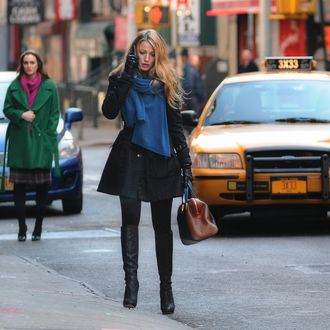 "Cross Rhodes" GOSSIP GIRL Pictured (L-R) Leighton Meester as Blair Waldorf and Blake Lively as Serena VanDer Woodsen PHOTO CREDIT: NICOLE RIVELLI / THE CW ©2011 THE CW NETWORK. ALL RIGHTS RESERVED.
Photo: NICOLE RIVELLI/2011 THE CW NETWORK,LLC. ALL RIGHTS RESERVED.
Like Ugly Betty and High School Musical before it, the Greatest Show of Our Time, Gossip Girl, will be getting a Chinese remake. The show's working title is "China Girl," it will be in Mandarin, and original Gossip Girl creators Josh Schwartz and Stephanie Savage will consult. But instead of following the lives of insanely rich Upper East Side high schoolers, "China Girl" will reportedly follow the lives of insanely rich Chinese college students, meaning the people of China might never have to live through that awkward "everyone is graduating!" third season. Still plenty of room for a prince, though.