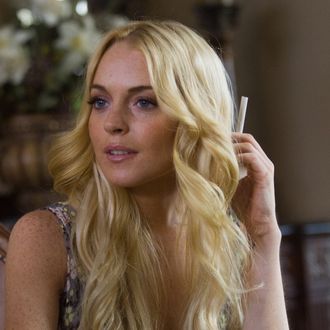 Lindsay Lohan
Photo: Rico Torres/Twentieth Century Fox
Even by Lindsay Lohan standards, 2011 was a rough year, as the starlet spent most of her time hopping among court, court-mandated community service, jail, and the Playboy offices. As you know if you have ever glanced at Us Weekly, Lohan's legal and behavioral issues have made her almost unemployable, and she has taken to starring in weird art films and New Zealand airline commercials (plus, of course, Playboy) to pay the bills. But according to Lohan, that all ends this weekend, when she'll host Saturday Night Live and prove to the world that she's ready to work again. Or, as her naysayers predict, she'll host Saturday Night Live and prove that she's an unsalvageable train wreck. It's being painted as a make-or-break appearance, a last-ditch effort to save a flailing career, and this all feels very familiar. Because the truth of the matter is that over the past six years, Lindsay Lohan has had many last chances, each one hyped that way. Every new Lindsay Lohan movie announcement is her giant "comeback," and then it always flames out. She is almost refreshingly reliable in this respect! So in case this weekend doesn't go as planned, Vulture now presents a brief history lesson on all Lindsay Lohan's many attempted career revivals, to remind you that this happens all the time. She'll be back. It might be on QVC, but she'll still be here.
2006: A Prairie Home Companion
In 2005, Lohan partied her way through the filming of Herbie Fully Loaded, a Disney movie starring a talking car. Her personal problems overshadowed the family film, and she caught a lot of flack for hanging out with Paris Hilton (and losing a frightening amount of weight). A Prairie Home Companion, starring Meryl Streep and Robert Altman, was supposed to put the focus back on Lindsay's acting. Unfortunately, it only grossed $20 million, and none of the people who went to see an ensemble movie based on an NPR show were the people writing the tabloids. Also, her character was a little crazy.
2007: Georgia Rule
Another respectable cast (Jane Fonda and Felicity Huffman) that was supposed to boost Lohan's pedigree, another little-seen (and poorly reviewed) movie that couldn't overcome Lohan's off-screen antics. It didn't help that Jane Fonda bad-mouthed Lohan's on-set behavior. It definitely didn't help that Lohan was arrested for the first of two 2007 DUIs about two weeks after the movie's release. She was sent to rehab shortly thereafter.
2008: Ugly Betty
Lohan's four-episode stint on the ABC drama followed her two trips to rehab and the first of her jail sentences (she spent 84 minutes in prison in November 2007). This is also right around the time that she appeared in the pages of New York as Marilyn Monroe. She looked healthy! (And exposed.) She started dating Samatha Ronson! Surely the bigger work would return soon.
2009: Labor Pains
Oops, nope, this one just got sent to straight to ABC Family.
2010: Inferno
After breaking up with SamRon and being dropped from a couple of films (and also suing the E-Trade baby), Lohan landed the role of Linda Lovelace. She then promptly skipped out on a DUI hearing, showed up to court with fingernail messages that read "Fuck U," and got herself sent back to jail. She lost the role a few months later.
2010: Machete
In which Lohan wears a nun's habit alongside Robert De Niro, Jessica Alba, and Steven Seagal, among others. So many chances to network, you might be thinking! You'd be thinking wrong.

2010: VMAs appearance
Lohan gamely showed up at MTV's Video Music Awards to mock herself and her "I get drunk and go to jail a lot" reputation. Changing the conversation! Self-awareness! Look, insurers, this woman is ready to work.
2011: Eyes of a Dreamer and Gotti: Three Generations
And then the necklace theft happened in February. As Lohan bounced in and out of court, she was connected to two projects, a Charles Manson movie (in which she would play Mason's famous victim Sharon Tate) and a John Gotti biopic for which she was hired, fired, and then re-hired.  Neither has made it to production.

2011: Playboy
After a few more trips to jail, poor Lindsay, with nary a career prospect and legal bills to pay, signed up for the cover of Playboy. It sold very well. 
2012: SNL and the Liz Taylor movie
After this weekend's festivities, Lindsay will play Elizabeth Taylor in a Lifetime movie, as long as she stays out of court. Stay out of court, Lindsay, we beg you! We don't watch too much QVC.