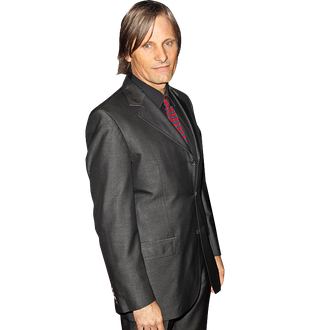 Photo: Dave Hogan/Getty Images
Viggo Mortensen is a reasonably talkative fellow, and he is definitely an expert in telling you why David Cronenberg deserves an Oscar or how stealing the blood of virgins can make you look like a teenage skate rat on the cover of the New York Times magazine. However, if you really want to go deep with Mortensen — and we mean really, really deep — ask him the seemingly general question "Who were your heroes growing up as a child, and who are they today?" Though most of us would make do with a simple response like "Captain N: The Game Master and Elizabeth Warren," Mortensen named around 230 heroes to the Boston Globe. (And this was not even the point of the interview, but merely the opening question.) The list is truly magnificent.
Here is a part of it:
As a child — say, before age eleven — I suppose they were my father, my mother, various horses and dogs, soccer players for San Lorenzo de Almagro (a club founded in Boedo, Argentina, in 1908 by Salesian priest Lorenzo Massa) like "Lobo" Fischer, "Loco" Doval, "Bambino" Veira, "Sapo" Villar and too many other legendary players from that club to mention — Viking Leif Eriksson, fictional gaucho cowboy Martin Fierro, Martin Luther King, Mahatma Gandhi, Odin, Thor, Jesus of Nazareth, Mark Twain, Charles Dickens, Hans Christian Andersen, William Shakespeare and Miguel de Cervantes, the character Don Quijote, his horse Rosinante and his trusty servant Sancho Panza, Achilles, Odysseus, Theseus, Joan of Arc, explorer Roald Amundsen, Tenzing Norgay and Edmund Hillary, Thor Heyerdahl, Roger Bannister (the first man to break the four-minute mile barrier), marathon champion Abebe Bikila, Edson Arantes do Nascimento (Pelé), long jumper Bob Beamon, Jesse Owens, Bob Hayes, Emil Zátopek, Wilt Chamberlain, Cassius Clay, swimmers Don Schollander and Dawn Fraser, Peter O'Toole's impersonation of T. E. Lawrence, the crew of Apollo 11, the recently-deceased rock legend Luis Alberto "El Flaco" Spinetta, Carlos Gardel, Bela Lugosi, Greta Garbo, Jimi Hendrix, Janis Joplin, Louis Armstrong, Edith Piaf, Beethoven, Mozart … 
Then there are around 170 more, which you can read here. After all that, Mortensen has an apology. "Sorry to give you such long lists," he writes. "Could have been even longer." Viggo, we need the director's cut immediately.