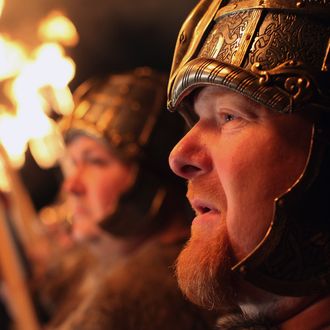 Men dressed as Vikings lead the torchlight procession as it makes its way along Princess Street for the start of the New Year celebrations December 30, 2011 in Edinburgh, Scotland. Thousands of people joined in the torchlight procession, followed by the burning of a Viking long ship, to mark the start of Edinburgh's Hogmanay celebrations.
Photo: Jeff J Mitchell/Getty Images
The History Channel is working on a scripted drama about Vikings, the network announced today. It's called Viking! Between this and the Braveheart show, the world's historical weaponry experts are having quite the day – even though the History Channel insists in its press release that Viking's "imaginatively choreographed battles will emphasize individual points of view, strategies, and ruses rather than mindless, graphic slaughter." The show will be a "family saga" about Ragnar Lothbrok, an actual Viking warrior and king who lived during the mid-800s. A Viking drama called Viking about a Viking named Ragnar. These are magical times, friends.