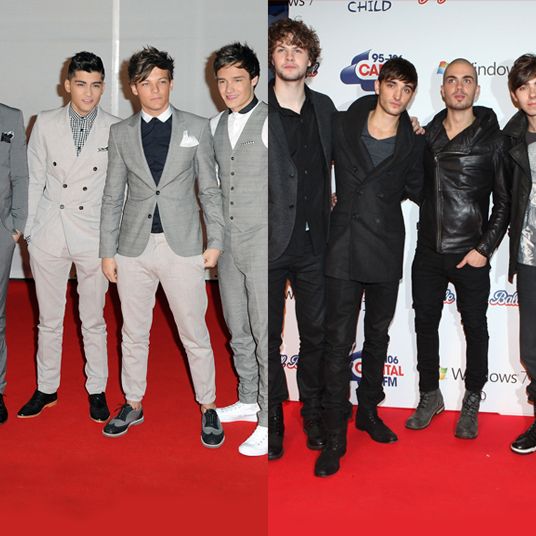 Photo: Gareth Cattermole/Getty Images, Tim Whitby/Getty Images
By now, you are probably at least slightly familiar with the British Boy Band Invasion currently storming the teen heartland. Perhaps you caught the Wanted on Ellen, or heard their Billboard "Top 10" hit "Glad You Came" on Glee. Maybe you saw One Direction on iCarly. (No?) Or maybe you've been reading many a headline about the New Generation and find yourself lost and confused, unsure on whom to transfer your 'NSYNC or BSB affections. If that's the case, then Vulture has you covered. We understand that the most important part of boy-band fandom is fierce loyalty; you can only live and die by one hastily assembled group of handsome male singers. And so, if you are going to enter the latest boy-band fray, you'll need to pick a side. Here's how!
The Wanted

Vital stats: Four Brits, one Irish guy; most are in their early twenties (Nathan Sykes, at 18, is the Joey McIntire of the group.)
Background: Came together as a result of a open audition back in 2009 (as opposed to the reality-show route that yields many a pop group in the U.K.). They've released two albums in the U.K., recently signed with Justin Bieber's manager Scooter Braun, and will release their U.S. debut in April.
Singles: "Glad You Came," (above) the edgy-for-a-boy-band party jam currently at No. 5 on Billboard's "Top 100"; "All Time Low," their breakout single in the U.K.
Name to Know: Max George, the Justin Timberlake of the group, who already regularly appears in the U.K. tabloids (but is sadly engaged)
Band vibe: Well-(hair)-gelled, racially diverse party boys
Recommended if you like:
-Skins
-specific references to booze and partying
-coded references to sex
-festive accordionlike instruments
-deep V-necks
-deep-cut tank tops
-Ibiza
-the one awkward guy in every boy band (Sorry, Jay McGuiness, but you are totally the new Howie.)
-actually being able to hear a British accent when a British person is singing
-slow-mo firework ballet sequences
-hot guys
-hot guys who look their age
-guys who get arrested on Punk'd
-'NSYNC. There's some definite JT-style swagger here.
One Direction

Vital stats: Four Brits, one Irish guy; all are between 18 and 20 years old
Background: Came together on the British X Factor, at the suggestion of Nicole Scherzinger. They finished third, signed with Simon Cowell, and released their U.K. debut in November 2011. It drops here next week. Their hit "What Makes You Beautiful" won the fan-voted award for "Best British Single" at the 2012 Brit Awards.
Singles: "What Makes You Beautiful" (above), a sunny, summer jam about loving your lady; "Gotta Be You," a slightly more anguished jam about loving your lady. These guys really love their ladies.
Name to Know: Harry Styles, who reportedly just broke up with a much-older! woman (32-year-old U.K. X Factor host Caroline Flack)
Band vibe: preptastic, mother-approved cutie pies
Recommended if you like:
-iCarly
-tame, adorable party references
-puppy love
-beach parties and VW-van road trips
-shaggy hair
-peacoats
-scarves
-striped sweaters
-really anything from the J.Crew men's catalogue. Seriously, watch this video. 
-Apatow-family endorsements
-Justin Bieber circa "Baby." They have the hair and everything.