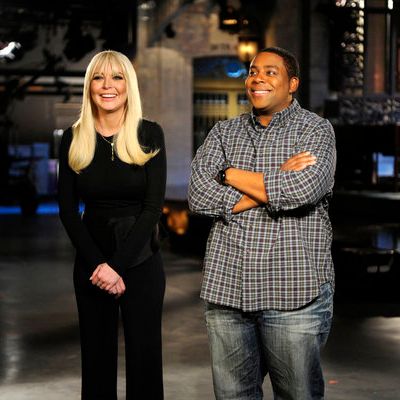 Photo: NBC/2012 NBCUniversal Media, LLC
Despite having nothing to promote but her own checkered present, Lindsay Lohan will host Saturday Night Live tomorrow for the fourth time. In any other case involving a multiple repeat guest host, anyone — not just a seasoned SNL soothsayer like me — could make some pretty solid guesses about which sketches will appear, based on characters the host has already played. But the problem with Lohan is that as she's grown up from the child star we first met in the Parent Trap remake into the convicted criminal we know today, she's scarcely been the same person from one SNL gig to the next. As a result, past performances give me nothing to work on. All I know is that, by her own declaration, Lohan has placed no topic related to her personal life off limits to the show's producers. So with that in mind, here's how I think things might go.
11:29 p.m. Cold Open: After winning Michigan's Republican primary, Mitt Romney (Jason Sudeikis) tries to celebrate with his supporters, but even the ones at his victory party seem pretty apathetic about it.
11:36 p.m. Monologue: Host Lindsay Lohan tries to do it on her own, but she keeps getting crowded out of the spotlight by her simpering sister Ali (Nasim Pedrad) and pushy mother Dina (Kristen Wiig).
11:43 p.m. On Fox and Friends, hosts Steve Doocy (Taran Killam), Gretchen Carlson (Vanessa Bayer), and Brian Kilmeade (Bobby Moynihan) interview/persecute Sandra Fluke (Lohan), the college student Rush Limbaugh called a "slut" for wanting to testify at a Congressional hearing about contraception.
11:51 p.m. Commercial Parody: In the spirit of GCB and Don't Trust The B—- in Apt. 23, ABC announces the rest of its slate of TV series with titles that are pejorative to women.
11:57 p.m. On the red carpet at the Oscars, E! hosts Ryan Seacrest (Sudeikis) and Giuliana Rancic (Pedrad) have to contend with a crazily posing Angelina Jolie (Abby Elliott), an eccentric Sacha Baron Cohen (Fred Armisen), and an extremely unruly Sean Young (Wiig).
12:08 p.m. Jack White performs.
12:14 p.m. Weekend Update features Rick Santorum (Andy Samberg) trying to clarify his contention that advocating for more Americans to pursue post-secondary education makes Barack Obama a "snob"; and Lindsay Lohan's probation officer (Lohan) complains about how hard it is to keep tabs on this particular offender.
12:24 a.m. The remaining ladies still fighting over Ben (Armisen) on The Bachelor have an increasingly hard time psyching each other out, in his absence, by pretending to be overwhelmingly attracted to his physical, er, "charms."
12:32 a.m. Commercial Parody: NBC Universal announces a new round of brand partners on its environmental parable The Lorax, including petroleum jelly, disposable batteries, and Gulf Coast sludge.
12:38 a.m. It's time for a new season of Celebrity Rehab, and the housemates — including Robin Thicke (Killam), Gerard Butler (Sudeikis), and Paz De La Huerta (Lohan) — are shocked when the last patient to arrive is Uggie, the dog.
12:48 a.m. Jack White performs.
12:54 a.m. Lindsay Lohan (as herself) runs into Justin Bieber (cameo as himself) backstage, and offers him the wisdom of her experience on the occasion of his 18th birthday, thoroughly creeping him out in the process.
1 a.m. Good night!