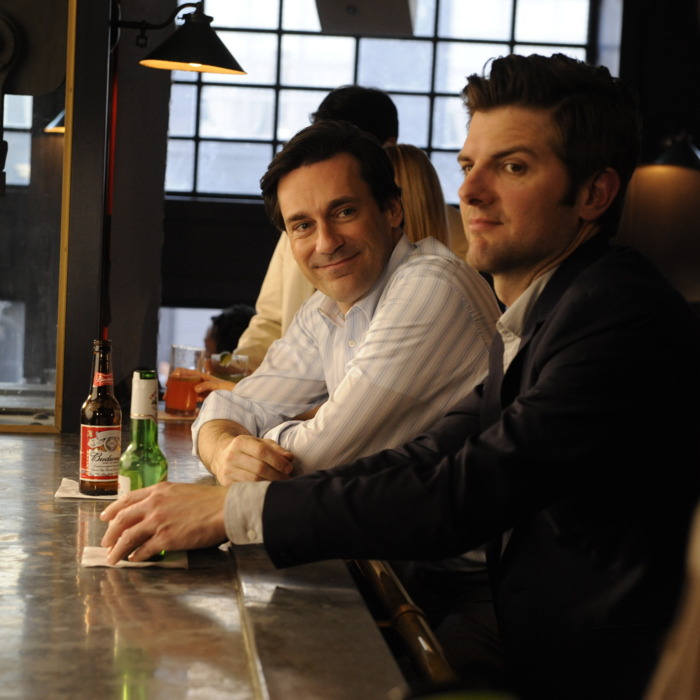 Jon Hamm and Adam Scott in FRIENDS WITH KIDS, written and directed by Jennifer Westfeldt.
Photo: JoJo Whilden/Roadside Attractions
Friends With Kids debuted pretty decently this past weekend, pulling in a solid $2.1 million in a not quite wide, but not quite limited release of 374 theaters. Some of that is surely owing to the Bridesmaids halo effect, but now that you've had time to check out the Jennifer Westfeldt romantic comedy, how does it stand on its own two feet? Let's call to order another meeting of the Monday Morning Movie Club to discuss the relative dickishness of the movie's men and the casting of Megan Fox.
Adam Scott's Boob Talk
So maybe your internal monologue upon seeing Adam Scott went something like this: "Oh, it's that lovable nerdy Ben from Parks and Recreation! … Wait, did Ben from Parks and Rec just call Jennifer Westfeldt 'doll,' like a Rat Pack-era player? Huh, now DreamNerd Ben is dating Megan Fox and giving lengthy monologues about various women's racks." Was it weird to see Scott in a crasser, dude-ly role? Or is he charming enough that you found yourself won over by his boob talk? Discuss.
Megan Fox, Transformed
As an actress, Megan Fox doesn't really go "big," so when she's cast in a movie like Transformers that's about nothing but bigness, it's not exactly her cinematic sweet spot. But in Friends With Kids, scaled down to earth, Fox is appealingly normal. More of this, please! (Even though that glimpse of the Marilyn Monroe tattoo she's trying to scrub from her forearm reminded us, "Oh yeah, this is Megan Fox.")
It's time for some new Brooklyn jokes.
Strollers, thirty-dollar cab rides, the end of civilization: these are familiar talking points! Let's get some Baby Yoga comedy on the books next time.
Will Jon Hamm Ever Get to Play a Nice Guy?
Let us be clear: Jon Hamm is very good at playing gruff, inconsiderate, verging-on-heartless alpha males. But this Friends With Kids character was really profoundly dickish, even in the context of Don Draper, Hamm's Bridesmaids character, his sometimes-callous FBI agent from The Town, and his buffoon from 30 Rock. Jon Hamm is apparently a very kind sweetheart of a man! Why will no one give him the chance to prove it on a screen?
Bridesmaids Revisited
Westfeldt certainly benefited from the massive success of Bridesmaids by casting many of its major players in her movie, but if you squint, could the film be considered an alternate-universe semi-sequel to Bridesmaids? In this version, Hamm and Kristen Wiig take their sex-filled relationship to an unhealthy emotional conclusion, and since we saw so little of Maya Rudolph's new husband in Bridesmaids, who's to say she wouldn't have eventually hooked up with Chris O'Dowd?