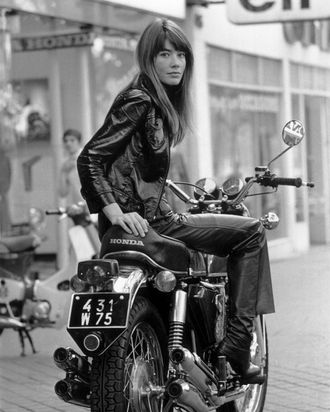 Francoise Hardy, the original "girl on a motorcycle," circa 1969. (Reg Lancaster/Express/Getty Images)
Photo: Reg Lancaster/Express/Getty Images
I went out Sunday night and left Mad Men's season-five premiere to the DVR, so perhaps you can imagine my confusion when I woke up Monday and found my Twitter feed suddenly buzzing about "Zou Bisou Bisou." Was it possible that the entire world had suddenly gotten really into a song by Gillian Hills, the sixties actress and singer billed as the next Brigitte Bardot? Were we experiencing some kind of overnight comeback for "yé-yé" music — the early-sixties wave of French and Spanish teen-pop, full of young women diving into girl-group and rock-and-roll and pop-romantic sounds? (The "yé-yé" is for "yeah yeah.") Any chance some of the records in my closet just quadrupled their eBay value?
Oh right, right: Mad Men.
But if you found yourself charmed by the new Mrs. Draper's rendition of "Zou Bisou Bisou," I have good news for you: Getting into yé-yé is a treat. (Also, you are going to love France Gall.) The era's full of gorgeous songs, gorgeously sung; full of strange and fascinating things slapped together by songwriting and production teams trying to sell records to bobby-soxers, or at least their French analogues; full of everything from over-the-top girlish "innocence" to tough-girl rock and roll; and, if you're so inclined to think over such stuff, full of weird sexual politics to chew on. (I mean, you watch Mad Men, right? These are songs sung by and aimed at teenage girls, but mostly written by adult men, some of whom swing wildly back and forth between infantilizing and sexualizing the singers — or, in the case of legendary songwriter-seducer Serge Gainsbourg, think it's funny to do both at once. It's like Orientalism, as directed at the world of young women.)
The style's actually been a huge influence on a lot of different scenes and musicians, from quaint indie-pop acts to the Japanese shibuya-kei sound to singers like April March and Louis Phillipe, who regularly unearthed, covered, translated, or just imitated gems from the sixties. (Not to mention, you know, modern French pop.) Here are five places to get started, with some extra links to boot:
France Gall's "Quand on est ensemble" (1966)
Gall's one of the quaintest and best-loved of the yé-yé girls — a teenage star, a Eurovision Song Contest winner, and the singer of some of the era's best teen-romantic pop songs. She also sang: children's music, jazz-pop, pop-pop, a lullaby dedicated to John F. Kennedy Jr. after his father's assassination (it's, umm, not very good), and some really grossly lecherous material written by Gainsbourg — witness this grown-man/teenage-girl duet about … sucking on lollipops. There's a calm, dreamy precision to everything she sings.
Françoise Hardy's "Tous les garçons et les filles" (1962)
Hardy was far too cool to really fit in with the yé-yé crowd — a hip café girl amid all the teeny-boppers — and her career soon went places the others' didn't. This was the flip side of her first single, and it seemed to sum up the world's romantic notions of Parisian youth ("All the boys and girls my age / walk down the street, two by two … Nobody whispers 'I love you' in my ear"). It was a huge success. It's also (if you ask me) one of the truly great songs and recordings of the whole of the 60s, in any genre.
Brigitte Bardot's "L'Appareil à sous"
Before she sang the original orgasmic vocal on Serge Gainsbourg's "Je t'aime … moi non plus" (Bardot didn't want it released, so Jane Birkin replaced her), and a long time before she started collecting fines from the French government for inciting racial hatred, the actress was singing trendy yé-yé, rock and roll, and jazz — and, you'll note from this TV clip, did a slick Twist.
Chantal Kelly's "Caribou" (1965)
"Second-tier" singer Chantal Kelly actually had a few of the era's most gorgeous songs, with "Caribou" chief among them. It's seriously bewitching — just wait until its foreboding spaghetti-Western verse modulates up into a suddenly angelic chorus.
Sylvie Vartan's "La plus belle pour aller danser" (1964)
This one's a ballad (she did ballads well), but Sylvie Vartan spent her time being more of a rock and soul girl — tougher, stronger-voiced, and more commanding than the chirpy teen sound of a singer like Gall. One of her best-remembered songs, "Comme un garcon" should by all rights be irritating, but her voice has the stagey boom of singers from decades before her, and it saves nearly everything it touches.