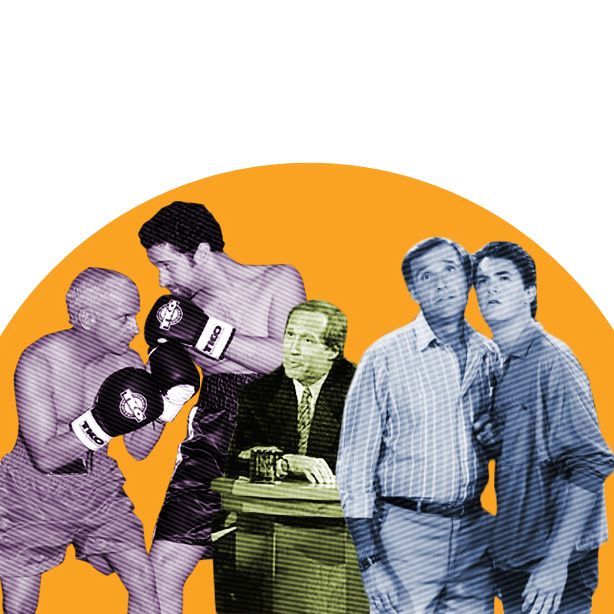 Photo: Trench Shore/WireImage (Celebrity Boxing), FOX
Later this month, Fox will mark its 25th anniversary with a clip-filled special paying tribute to its biggest hits, but the network's official silver anniversary is today. It began its first prime-time broadcast on April 5, 1986; after a short promo film featuring the famed 20th Century Fox fanfare, Fox aired the premiere of its very first series, Married … with Children. It was developed under the working title Not the Cosbys, and the show spoke to Rupert Murdoch's desire to upend the traditional Big Three broadcasters with fare that was louder, younger and more interesting than what was currently on the air.
Over the quarter century that followed, Fox would launch a slew of successful shows, from populist hits like Beverly Hills, 90210 and American Idol to critical faves that also drew big ratings, such as The Simpsons, House, and The X-Files. But Fox's penchant for experimentation has also resulted in a whole bunch of … less successful efforts. Stuff that was weird (a nuclear holocaust comedy!), offensive (adoptees compete to find their birth father, The Chevy Chase Show), and just plain forgettable (two words: Karen's Song). There will be plenty of love for Fox's best later this month, but today, Vulture has decided to honor Fox's rebel spirit with a look at some of its less well-remembered shows: twenty that fall into the categories of "bizarre," "bad," or "baffling", and five that were actually kind of good, but never broke through. Get as comfortable as Al Bundy on a couch, grab a Duff beer, and join us as we sing "Happy Birthday" to what's arguably Murdoch's best contribution to society.