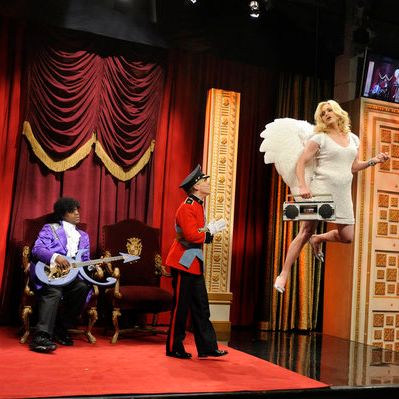 Who knew that the year's best episode of Saturday Night Live would take place on another show? 30 Rock last night must have been what SNL felt like in the early days: a party where all the coolest people on television were invited. Throw in someone from The Good Wife and a Lannister or two, and you'd pretty much have current must-see TV covered.
Peter Dinklage, the nerd in me has to point out, has already been on 30 Rock. So has pretty much everyone at this point. Last night's guest stars included Amy Poehler, Donald Glover, and Paul McCartney, and the audience loved them, but they weren't what made the episode feel like the platonic ideal of a sketch comedy show. What did was the way that everyone involved — writers and actors — approached the episode with confidence and exuberance.
So much of 30 Rock's live show last season was about real-time TV's most basic titillation: the fear that something might go wrong. All those jokes about Tracy deliberately laughing on camera seemed to come out of a very tense place. This time around, though, the point wasn't that someone might screw up, but that a kind of magical alchemy might take place once all the network's constraints were removed.
Tina Fey explained to the New York Times this week that after last season, she and her team realized that it's impossible to make a live show feel like a filmed episode. So they didn't even try. Instead, they locked half the cast in a room together, dedicated chunks of the show to flashbacks and Dr. Spacemen commercials, and threw in a minimalist storyline about Jenna and Paul getting engaged. The show was a celebration, a clip job playing tribute to a TV history that never happened — as well as TV history that actually did. The window for making "Zou Bisous Bisous" jokes is closing rapidly, but when Paul came down from the ceiling singing, I got chills.
The basic premise was simple: Jack Donaghy wants to stop running TGS live. Instead, they'll tape the whole season over a period of two weeks, like Wheel of Fortune or Fox News. Liz starts out resistant, but she's won over by the idea of working only two weeks out of the year. It's up to Kenneth to remind everyone why live TV is special, which he does by locking twelve members of the cast and crew in Tracy's dressing room and regaling them with tales of TV's past.
Tina Fey's acting has gotten much better over the past season or so, and the historical clips gave her a chance to show off her new skills. On the Honeymooners-esque Lovebirds, she played a sassy housewife, with Alec Baldwin as the husband who keeps threatening to violently murder her. Later, she's a TV journalist whose attempts to report on Apollo 13 are thwarted by sexist anchormen played by Baldwin and Jon Hamm.
Baldwin also plays Joey Montero, the drunk talk show host who never bothers to rehearse. On the East Coast, at least, he nearly lost it on the line, "I slept like a baby last night. I woke up crying with a boob in my mouth." This might have been the weakest of the TV skits, but it did involve Jane Krakowski as Dusty Springfield singing "You Don't Have to Say You Love Me" while Baldwin wandered disoriented around the front of the stage.
But where were all the black people? According to Kenneth, NBC had the two first two black characters on TV, Alfie and Abner. But one of them was played by a white guy because NBC was afraid two black people on the same show would make the audience nervous — a rule still in use today! Jon Hamm's commitment to the role was impressive, if squirm-inducing. And if you watch closely, you'll see the actress who plays staff writer Sue laughing uncontrollably during the cuts back to Tracy's dressing room. (You might also catch Fred Armisen sitting in Judah Friedlander's chair and wearing Judah Friedlander's clothes, though he's a little more noticeable later on when he leans into the frame as a telethon worker in lipstick and pearls.)
The most important flashback comes when Tracy reminisces about how live TV changed his life. As a kid (played by Donald Glover), he performed in a regional telethon with his church dance crew, but when he fell down and bruised his coccyx, he learned all about mugging for the camera: "That's when I realized I was a ridiculous man." Liz and Jack met at that same telethon, when young Liz (Amy Poehler) played a prank call on a young G.E. executive with the piercing blue eyes of an ice dragon (Jimmy Fallon). The experience taught Liz that she liked sticking it to the man, and it got Jack promoted out of the poison department. Live TV made them; they can't turn their backs on it now.
So Kenneth coughs up the key he swallowed, and everyone goes back to work on that night's show. Jenna and Tracy are about to start a sketch called "Prince William and Prince, Time Traveling Fart Detectives" when Paul swings down from the ceiling dressed as an angel and makes his declaration of love: "Jenna Maroney, you're the woman I want to grow OLD with. OLD being an acronym for oxy lapro dexitrine , a hallucinogenic plant extract that makes sex terrifying." As Jenna accepts, Hazel runs on stage and slowly rips up photo of Sinead O'Connor. Oh, live television!
We're probably all a little jaded about Tina Fey's talents at this point, but the episode demonstrated once again that she's a powerhouse. After a month of watching Lena Dunham being hailed as the future of women in comedy and then torn down by online critics, it's really satisfying to witness a female comedian who's fully entrenched in the comedy establishment, knows exactly what she's doing, and doesn't have to prove anything to anyone. (It's also worth noting that the episode was directed by a woman, Beth McCarthy-Miller, who Fey described to the Times as "literally the only person" who could do the job.) Fey looked so happy during the SNL–like credits. On the East Coast, at least, she even tossed in a little "Can you believe I get to do this for a living?" shrug when she thanked Paul McCartney. Whether or not the show continues past the next season, she knows she's earned her place in TV history.