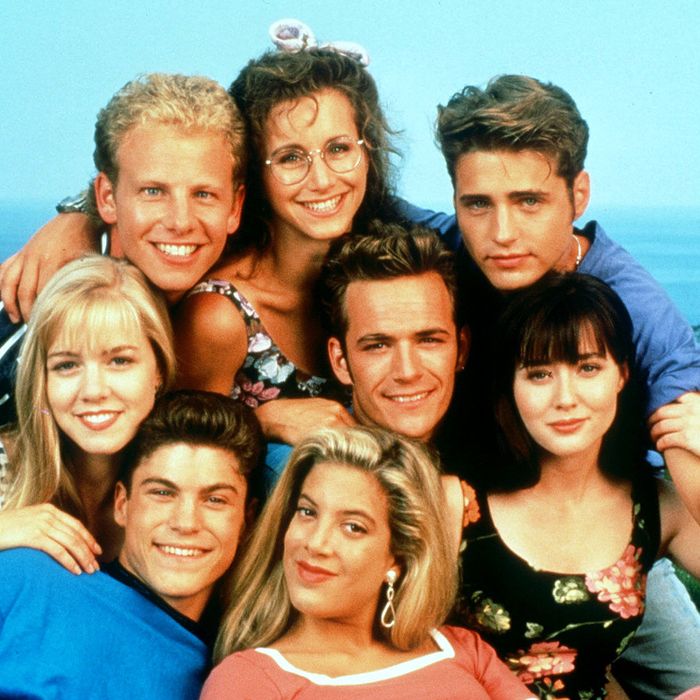 Beverly Hills 90210
Photo: FOX
Shannen Doherty's latest reality show Shannen Says debuted last night, and between that and Tori Spelling's recent round of attention-gathering, it hit us: Has any other show been able to spawn as many reality contestants and series as Beverly Hills 90210?
Tori Spelling alone has had several reality shows. First came Tori & Dean: Inn Love, then Tori & Dean: Home Sweet Hollywood, and then Tori & Dean: sTORIbook Weddings. Shannen Doherty had Breaking Up With Shannen Doherty, did a season of Dancing With the Stars, and now has her new show. Jennie Garth also did DWtS and has her own show coming out. Ian Ziering danced with the stars, and Gabrielle Carteris was on a season of The Surreal Life. Luke Perry, there but for the grace of God, etc. That's ten.
Baywatch is a contender, too: Jeremy Jackson was on Celebrity Rehab, Pamela Anderson had Pam: Girl on the Loose, and both she and David Hasslehoff were contestants on Dancing With the Stars. (Hasselhoff also judged America's Got Talent, but that's different.) Carmen Electra doomed her marriage on Til Death Do Us Part: David + Carmen, Traci Bingham did two Surreal Life stints as well as Celebrity Big Brother, and both Jeremy Jackson and David Chokachi were on a little-watched 2009 series Confessions of a Teen Idol. That's ten, too, but 90210 second-stringer Jamie Walters was also on Confessions of a Teen Idol — which means 90210 is still in the lead.
No other show comes close. The Brady Bunch is probably next, though: Florence Henderson was on DWtS, Christopher Knight had My Fair Brady (plus Surreal Life before that), and Maureen McCormick was on Celebrity Fit Club. All My Children has sent four cast members to DWtS, but that's still nowhere near West Beverly's eleven.
90210: The gift that keeps on giving!