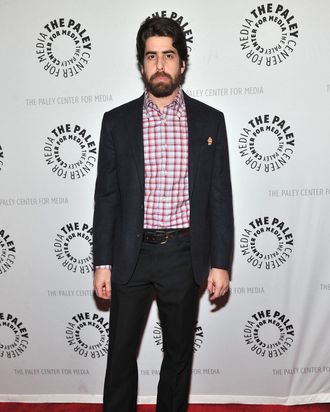 Adam Goldberg.
Photo: Mike Coppola/Getty Images
Last night, the Paley Center hosted a screening of NYC 22, CBS's midseason cop drama about six rookie officers patrolling the streets of Harlem. (The show, which premieres this Sunday at 10 p.m., is from novelist and Wire writer Richard Price.) Unlike NYPD Blue, 22 is actually shot in New York, and so Vulture was able to visit the set for a flower-shop shoot-out scene led by stars Adam Goldberg and Terry Kinney. What we learned then, among other things, is that Goldberg (who plays a former crime reporter) is a rather zany fellow. And last night was no exception. Here's what he had to say when we caught up with him.
I just saw on Twitter that you're having hotel problems.
I always do. If you want to hit those hashtags that I put on there today, they should refer to a certain hotel. I christened it the Le Parker Merde. That's a double entendre. They were doing construction literally outside my window to the point where I was yelling on the telephone trying to do something about it. I have many photographs. I have video of them dangling outside the window, drilling and hammering. And so today I flew in at eight in the morning. I got several wake-up calls as well as some drilling and hammering. But that's just me. I am bad luck.
You're playing a cop. Have you ever had a run-in with the police yourself?
Yeah, actually, when I was doing this other show [The Unusuals] a couple of years ago, playing a detective. I got in trouble for not curbing my dog. But there was snow, and I have miniature pinschers, and my one, you can't tell if she poops half the time and I was looking everywhere for the poop and I couldn't find it, so I got up and I walked away because how long are you going to look on your hands and knees, rolling around on snow and dirt? And the cops, the poop patrol, came up and this one guy was just balling me out. And the other guy was like, "You're that actor. No, let him go." And I go, "Yeah, I'm playing a cop." Every once in a while that works.
So they let you go because they recognized you?
Yeah, I'm sure if I had murdered someone it might not have been the same. Although, then again, I can think of a few examples of where people have got away with that too. But, yeah, I actually like to call the cops a lot in Los Angeles. I'm very paranoid. So I have a fairly good relationship with the police.
What have you called them for?
Oh, there was a guy in our house a couple of years ago. That's actually why I began a Twitter account, was to try and find this guy. He was standing in our dining and living room at like five in the morning, totally disoriented. Young guy, handsome, didn't seem drunk, just walked in our house. And I was wielding a 1965 Gibson ES-330, screaming at the top of my lungs while my girlfriend was screaming hysterically and crying. He was just standing there stone cold without moving. It's a long story. The long and short of it is everybody is fine. But I called the cops.
[To Tom Reed, Goldberg's co-star, who was standing nearby.] How about you, Tom? Have you ever had any run-ins?
Reed: No
Goldberg: You've never been handcuffed? I've been handcuffed a couple of times.
Reed: I think I should go through the experience while I'm here.
Goldberg: Yeah, you've got to get handcuffed.
Reed: The thing is New York cops are different from London cops.
Golberg: London cops are like [mimes a slapstick move and running].
Reed: Yeah, it's kind of comical, like Laurel and Hardy. You're so not afraid of them.
Golberg: No, I imagine early Benny Hill.
Reed: Yeah, 100 percent. And you walk down the streets of New York and I'm scared to look them in the eye.
Golberg: Don't the [London cops] not have guns?
Reed: They don't have guns.
They still don't have guns? None of them?
Reed: No. They've got, like, slingshots, that's it.
Golberg: They've got really heavy, hard balls.