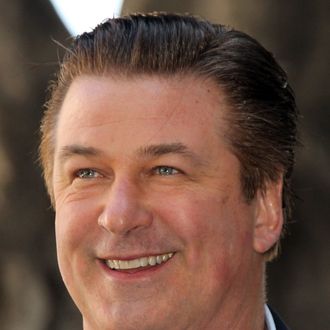 Photo: Frederick M. Brown/2011 Getty Images
Alec Baldwin was pretty grouchy this morning, complaining on Twitter about the tabloid news crews outside his apartment, covering the news of his stalker's arrest. Particularly upsetting? A crew from the Today show. "#howthemightyhavefallen," Baldwin tweeted. "No one from NBC contacted me until the Today Show arrived at my apt," he said. "I think I'm leaving NBC just in time." Record scratch. What? Alec Baldwin is under contract for another season of 30 Rock — which assumes that there will be another season of 30 Rock, and that's not a totally done deal just yet. But it seems likely. Again, he's under contract, and sources confirm that that hasn't changed.
Contracts aside, just because Baldwin is on NBC does not and really should not entitle him to better treatment from Today, which is technically part of the news division. (Finding the maxi dress to flatter you: news at 9 p.m.!) We're guessing Today doesn't make a habit of calling people they're trying to get candid footage of, and Baldwin — or any other NBC employee — can't get special treatment, even for a low-stakes trashy story like this. Today is not in the celebrity-privacy-protection business, and they can't make an exception for an NBC star just because.
A rep for Today didn't respond to our questions.