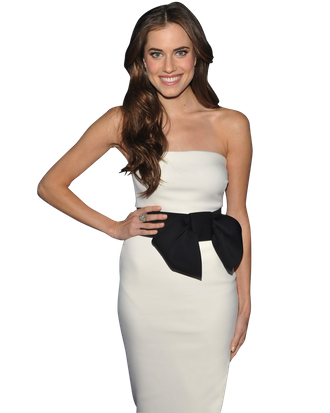 Allison Williams.
Photo: Stephen Lovekin/Getty Images
We're imagining last night was an "unmitigated joy" kind of night for Brian Williams, whose daughter, Allison Williams, stole Episode 3 of Girls with a masturbation scene unlike any other we've seen on TV. (It involved a gallery bathroom and Jorma Taccone talking dirty.) It was her character Marnie's hottest sex to date — she otherwise barely gets off (if she gets off at all) with her boyfriend, Charlie. Vulture spoke with Williams about the long shelf life of a boring relationship, what she knows about gallery girls, and getting it on with herself onscreen.
I feel so bad for Charlie.
He's such a good person. I think [their relationship] is a very relatable scenario. And I think it's one that isn't depicted very frequently. It's that very familiar dynamic where you're over someone in a relationship and no matter how nice they are to you, and especially when they are nice you to, it just feels grating, and it just feels like you're being suffocated, and she just doesn't have the guts to end it.
Why do people stay in boring relationships?
Safety. It's honestly as simple as having someone to have dinner with every night. Like, someone who is your default meal partner. And it's also just that fear of change, and when you're in such a precarious phase in life anyway, the idea of adding one other variable into the mix is really terrifying. And, so, if you have one constant, which is a boyfriend, then it might kind of feel like you kind of have it together.
Marnie is also just completely abusive to him.
Yeah, but I think it's in that way where, again, as you're nearing the end of a relationship that you're no longer in emotionally, and you just want to push them away, which requires some abuse, because if you lack the maturity to figure out that you need to end it, I guess the instinct is just to push them away and offend them and piss them off to the point where they will break up with you, because you just don't have the guts to do it yourself. 
Were you drawing off of any boring relationships?
Oh, I've never had a boring relationship. I've had — I've had relationships, and there have been shades of this in them, but, you know, like anything with acting, you just sort of pull experiences from every corner of your life and create an amalgam of them to portray. And I think that was definitely the case with this. It's no one boyfriend that he corresponds to.
Are you someone who ends things, or are you someone who lets them go on?
Oh, I've been on both sides of that. I've been dumped hard. My heart has been broken and shattered, and I've also been on the other end of that too, so.
How did you prepare for the masturbation scene?
Uhhh, [Nervously laughs.], I talked to Lena about it. It was just, I read it and, um, we just, yeah — I mean, I shot the scene with Jorma, so I knew what came first, so that was really nice to shoot it in sequence. And so I could remember what I felt like after that scene with him and then, yeah. I'm sort of fascinated that it's being made into a thing, because I just looked at it as a part of my job. There were scenes that were more difficult for me to do than that one, and it's interesting to me that people are fixating on it. I mean, little Sally Draper in Mad Men did it before me, so listen — I'm just entering her territory.
Did you meet girls who work in galleries to prepare for the role?
I know a couple girls that work in galleries. My roommate in college was an art history major, which was very helpful. I don't know much about art, and so I had to ask a couple questions about it. But it's just a fascinating world.
It is, but you also don't know what they do all day when they're between openings.
It's sort of inexplicable. One of the things I love about Marnie is that she wears a suit to work, even though she works at an art gallery, because her idea of going to work is just, like, you put on a suit and you go to work. And it's very official, but in reality, her job is one of the more fun ones that a young girl can have, and she should really be enjoying it and not taking it so seriously and that's one of the things that I love about her is that she just — she really takes everything pretty seriously.
Did you know that Bravo is actually doing a reality show called Gallery Girls?
Oh, I didn't know that. That's really funny. Someone even said to me last night, "I didn't know you were a gallery girl on the show." Yeah, they used that phrase. That's funny.
You haven't gotten naked yet on the show. Are you planning on getting naked?
Uh, I'm not planning on getting naked.
Is that contractual?
I don't think I can talk about that.
Okay.
But, yeah, I'm not planning on it.
How long did you live off your parents after college?
I'd rather not talk about it. They're really supportive of me emotionally, though. [Laughs.]
And did you intern throughout college?
I did. Oh my gosh, I've done so many funny jobs. I worked at a farmer's market through high school. I worked in the stock room of Ralph Lauren. I graduated to salesperson at Ralph Lauren, which was a big deal to me. I've been a P.A. I've been a stand-in. I've been an assistant's assistant. Uh, yeah, I've done a ton of jobs. 
And you were an assistant to Tina Fey's assistant, right?
Yes.
Like, how does that even work?
You know, I think it was really — I just wanted experience and I wanted to get to know the business, and it was a great summer because she was finishing Baby Mama and starting 30 Rock, so I kind of got to see, like, film and television. And it was so informative. Not only did I learn a lot about the industry, but I learned a lot about New York City — just getting lost in cabs and not knowing where things were. I got to spend a day in the writers' room of 30 Rock and I'll never forget it … I just thought [Tina Fey] walked on air.