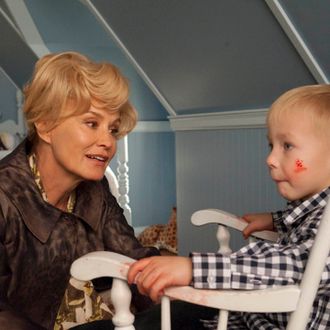 AMERICAN HORROR STORY: Episode 12: Afterbirth (Airs December 21, 10:00 pm e/p). Jessica Lange (L). CR: Prashant Gupta / FX.
Photo: PRASHANT GUPTA/FX
Ryan Murphy confirmed a few details about the upcoming season of American Horror Story yesterday at a promotional panel: Yes, it'll be set in an East Coast "institution for the criminally insane that is run by Jessica [Lange]," he said. Yes, Adam Levine will be nude or partially nude a lot. Maybe Zachary Quinto's character will be Lange's enemy. And the clue from last season's finale? It was from psychic Billie Dean (Sarah Paulson), who talked about places where evil collects, so, mystery solved. Murphy also revealed that the season will be set in a "completely different time period" from the last, that there's "not a mention of season one," and that it will be "fun, sexy, and baroque." Baroque! Murphy didn't say what time period the show will be set in, but given his love for the grotesque and AHS's love of punchy costumes, we're really hoping it's the seventies, and everything is just very hairy and garish and terrifying.