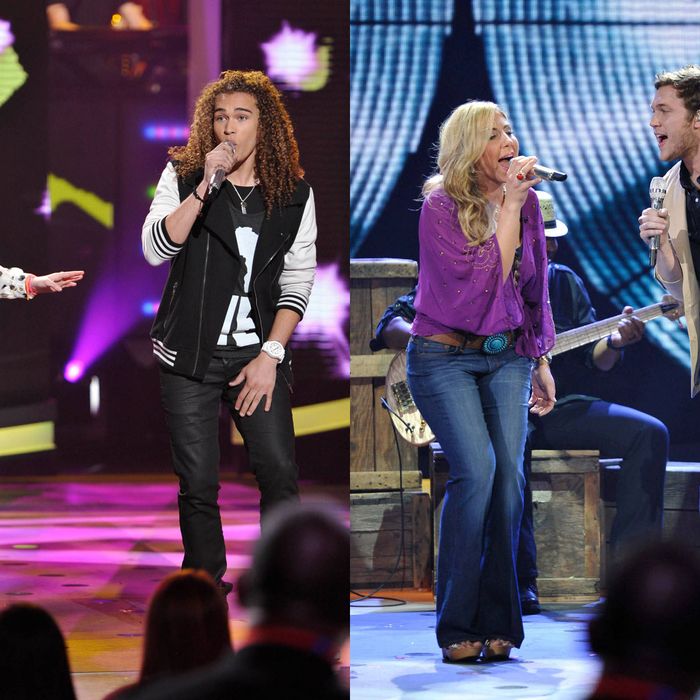 Photo: Michael Becker/FOX
Tonight is Eighties Night on American Idol, and Ryan Seacrest is celebrating it by acting like he has ingested a mountain of cocaine. Jumping, flitting, flirting, mugging. Ryan is straight impish tonight, and if he's half this frolicsome during the Olympics, I look forward to watching Bob Costas slap him.
We begin by showing a mid-eighties Journey photograph of Randy Jackson: big shoulder pads, boxy Larry Blackmon haircut. Much is made of the fashion faux pas. Ryan asks: "So you looked this way and thought: yeah, I'll go out like this?" — but will you look at Randy Jackson now, in his glitter-piped jacket and polka-dot blouse? Why are we pretending that now is any better? You know how there are people who secretly deal drugs out of ice-cream trucks? Randy Jackson is dressed like a drug dealer who secretly sells ice cream.
Anyway, our mentors are Gwen Stefani and Tony Kanal from No Doubt. They're clearly fans of the show, which always adds a nice dimension to the process. Right away, Gwen calls Deandre out for looking nervous after his performances. I wish she'd mention his over-reliance on falsetto, which isn't helped by his choice of DeBarge's "I Like It." It's a decent performance, but we're at the stage of the competition where people's gimmicks start to wear thin and bold action is necessary; this is not it. Of course, the judges love it. Randy says: "El DeBarge is somewhere saying 'OH MY GOD,'" which might be true, and given El's recent drugs arrest, that place might be prison. MOVING ON, Ryan asks Deandre how it feels to go first, and he says what I could have sworn was: "It's a deviled-egg sword." (He is probably saying "double-edged," but maybe not.)
Tonight the top eight are telling us what they miss about home, and apparently "nothing; get me the fuck out of here" is not an acceptable answer. Elise says she misses her band, which I buy. She also does the impossible and makes me happy to hear Foreigner's "I Want to Know What Love Is," and here's how she does it: She originally intends to sing Leonard Cohen's "Hallelujah." Her performance is actually pretty nice, and it's good to see her get more comfortable in this environment. It's so good, in fact, that the judges don't care for it. Steven offers this invaluable piece of guidance: "It's hard to take one from the other because it's an eighties song and that's for sure. And eighties songs are eighties songs. But. Yeah." No, really, that's all he says. Also, he is dressed like one of the outfits Cher would pass on in a getting-ready montage from the TV version of Clueless.
How will they turn this into a two-hour show? Easy: by making the top eight pair up for four duets, the first of which is Colton and Skylar's take on "Islands in the Stream." Colton does a good job outside of his whining-to-Jesus comfort zone, but when you put this one up against the original, you really can't miss how nasal country singing has become in the last 30 years. Now, these duets are not officially being judged, so when the judges give their opinion, what they are doing is officially wasting our time. (Surprise: They love it.)
Phillip misses his musical mentor, who also happens to be his brother-in-law. It's sweet, especially since he manages to get him onstage in the Idol-dome to accompany him on Genesis's "That's All." The bad news is that it's boring. Phillip's range is limited, and his shtick is starting to wear thin, even to me. But it matters little; Phillip could get live colonoscopies as his next seven performances and still make it to the finals. The judges love it. I wish they'd start pushing Phillip harder, and I bet Jimmy will light into him tomorrow night. Randy asks the brother-in-law's name and then just continues calling him "Bro." That's Randy Jackson for you.
Hollie and Deandre duet on "I'm So Excited," with Hollie straight-up Jessie Spano-ing it as she carefully descends the Magic Staircase in precipitously high heels. (She is, you see, so scared!) But she makes it to the bottom in one piece, and their pep almost makes up for the wack-ass pyro that fizzles on the sides of the stage. Boy, would this have made a much more entertaining 90-minute show.
Joshua Ledet continues his streak of oversinging and not paying attention to lyrics with his performance of "If You Don't Know Me by Now," which is not strictly speaking an eighties song anyway. He ends on the line: "YOU WILL NEVER NEVER KNOW ME BY NOW," and perhaps seeing his title of Least Comprehensible slipping away, Steven tells him: "It wasn't too much over-the-top and it was way over-the-top, so it was just perfect." The judges love it, because of course they do. Listen: It is technically very impressive, but I still have no idea what else Joshua can do with his voice other than yell, or why he never looks like he's having any fun. Joshua, I do not in fact know you by now, and I suspect you're correct that I never will. Ooh.
Speaking of which, Jessica Sanchez sings "How Will I Know" as her alter ego BB Chez, and I can honestly say that she is now two people I don't know particularly well. It is of course flawless. This girl can really sing. But I really wish she'd waited until she was a few years older and developed more of a personality. As it is, judges' enthusiasm notwithstanding, Jessica is headed down Pia Toscano Alley.
Duet No. 3 of the evening is the first 45 I ever bought: Stevie Nicks and Tom Petty's "Stop Draggin' My Heart Around," sung by Phillip and Elise. Elise gets a little (and much-needed) boost from it, while Phillip does the same vocal trick on every single line. I would like this duets thing much more if it weren't a craven, soulless exercise in running out the clock.
There are technical difficulties that prevent Hollie from starting right away. Somehow the keyboard got unplugged — probably by skittery, cokey old Ryan Seacrest — and you can hear stagehands panicking. Ryan tries to fill time by having a normal human conversation, and you would not believe his relief when the problem gets solved and he can stop. Hollie does "Flashdance (What a Feeling)," which seems like a direct answer to the judges' concern that she's not having enough fun. I think she does a good job, even if I do suspect that she ended on the wrong line; did she intend to close on "take your passion"? The judges don't like it. Hollie, you in danger, girl.
Joshua and Jessica close out the duets with a take on "I Knew You Were Waiting for Me" that makes Aretha Franklin sound like Lana Del Rey waking up from a nap. I have no further comments.
What Colton misses from home is his job painting faces at sporting events. Obviously. And I have finally figured out who Colton reminds me of: someone in a crowd scene in an Archie comic.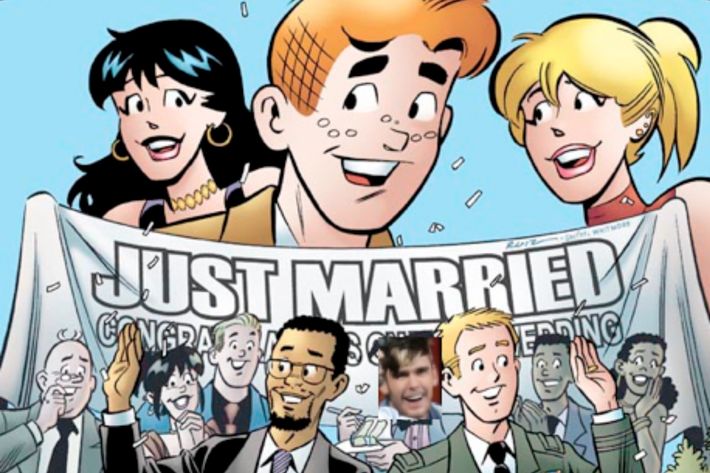 He does an uptempo version of Cyndi Lauper's "Time After Time," with a strange vocal affectation that makes it sound like "chive after chive." It is 100 percent pure Colton, which means the kids will love it. I hope he's not one of those Kirk Cameron kinds of Christians, because we're going to be seeing a lot of him.
Skylar Leigh has been circling the same block for the last couple of months, and it finally came back to bite her ass with a bottom-three finish last week. She needed to do something different, and as strange as it feels to call "Wind Beneath My Wings" a bold choice, it is and it works. It is wise for her to slow things down and show that she can really sing — though wouldn't KT Oslin's "80s Ladies" have been delicious? — and I'd say she's back in the running. Jennifer cries. Settle down, Jennifer.
Overall, we might be heading for an instant replay of last year: Jessica as Pia, Skylar as Lauren Alaina, Phillip or Colton as Casey Abrams or Scotty McCreery. (Elisa is Alison Iraheta, which throws this theory off, but I'm still right and you know it.) I hope it doesn't play out this way, because I have a job for Phillip right here, and it would be nice to see a girl win this thing again. But I do know that girl won't be Hollie, who is almost definitely out tomorrow.