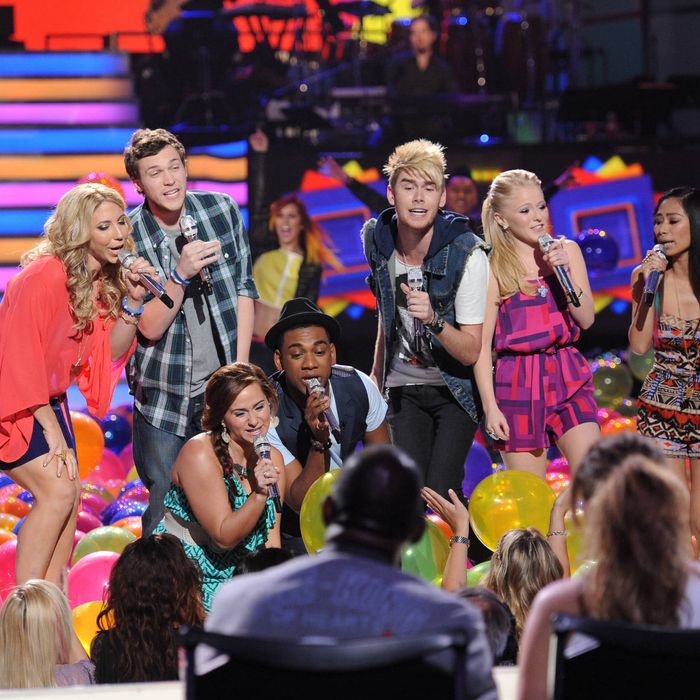 Photo: Michael Becker/FOX
So here we go! It is time to really seriously say good-bye to someone tonight, as the judges have used their save and we have to get this thing finished by August. Back in the old days, the post-save week meant two eliminations, but I guess the public shaming of Jermaine Jones bought us an extra week.
Taylor Hicks is in the audience! My first thought is: How did that dude get a ticket? Also in the house, the only Idol alumnus whose album I own: Elliott Yamin. (True story! It's pretty good!)
I am delighted to tell you that the group number is not awful; the kids do Martha & the Vandellas' "Dancing in the Street," and it is a billion times more dignified than the Mick Jagger–David Bowie version from 1985. You know what else is more dignified than the Mick Jagger–David Bowie version of "Dancing in the Street"? "Super Sloppy Double Dare" and pornography. In a porkpie hat pushed way back on his head, Joshua Ledet looks like Mikey Craig, the bassist from Culture Club, which makes me think about how much Elise Testone could crush the Helen Terry parts in "Church of the Poison Mind." How many My Coke Rewards points do I need to commandeer my own Idol theme week? Anyway: There are balloons! There are bucket drummers! Phillip is goofing on it so hard it is indistinguishable from actual fun! The group number is not making me sad!
(Oh, but the Ford music video is. The gang is dressed up like the Zodiac symbols for Switchfoot's "Stars." The production values have gone up just as they've run out of ideas.)
And then it is time for Truth O'Clock with Jimmy Iovine. Jimmy thinks Joshua got more comfortable last night, and so did Hollie, but it won't be enough to keep her out of the bottom three. And he's right, as usual; Ryan says this: "Joshua … I'm afraid you didn't get the right number of votes … to put you in the bottom three." Stop it. Hollie did get the right number of votes to put her in the bottom three, though, so off she goes.
Back from break, Ryan chats with Taylor Hicks, who is wearing a baby-blue sport coat and looking like a guy your dad works with. But he's got an announcement: He's doing Vegas this summer! And … that's all the information we have about this! No dates, no venue, just "I'm doing Vegas!" So … I guess he's staying at the Mirage for a night or two? Hoping to check out Jersey Boys or something? It is a mystery, and I can tell you with a high degree of confidence that I will never solve it. Ryan does give him the opportunity to announce Kris Allen's performance; Taylor shouts "KRISSS ALLLENNNN" before an exasperated Ryan sighs and reads the whole, long intro that's in the TelePrompTer, after which Taylor bellows "KRISSS ALLLENNNN" again. It's tasty.
Kris's song is okay. He's turned into a one-man, American version of the Script. There are better things to be, but there are also much worse. Kris is also wearing a pair of jeans that render him, it must be said, alarmingly package-y.
Skylar and Elise are next up for evaluation. Jimmy calls Skylar "the best performer we've got," and says that while Marvin Gaye's original "Let's Get It On" caused a baby boom, Elise's version did no such thing. He's not wrong. We know how this is going to turn out and, perhaps sensing this, Ryan is now doing double fake-outs: "Elise … I have to tell you … that you … are in the bottom three." Skylar is safe.
After a heartfelt Dick Clark tribute, Ryan introduces LMFAO. Hey, remind me never to die.
I suppose the time has come for us to discuss LMFAO. Listen: It's hard to get by as an artist no matter where you came from, but we're aware that LMFAO are Berry Gordy's son and grandson, right? I know we're all supposed to be disillusioned because Lena Dunham is some painter's daughter — and yes, every day in Hollywood I am losing jobs to the children of prominent poets and sculptors — but this particular brand of nepotism is much more destructive to society. If nothing else, it is unlikely that someone will put an episode of Girls on the jukebox when you're trying to have a nice conversation in a bar. Even if all Mr. Gordy gave these kids was their otherworldly, unfounded confidence, it's too much. This is the problem with our world: It takes Fiona Apple nine years to collect the self-esteem to find her piano, but these two knuckleheads have already ruined my next four summers.
Anyway. Phillip, Colton, and Jessica are last up for Jimmification. Jimmy says Jessica is singing songs that are too old for her, which is true, but she doesn't exactly convince me on the younger stuff either. Phillip killed the Usher song, and even though his Wilson Pickett was so-so, he'll be fine. And Colton was a mess, which he was. Also, through Jimmy's segments, he's opining on what each contestant will have to do to make it to the finale: In order for everyone to make it to the finale, they will have to — stay with me here — keep singing very well. Have you got that?
Ryan tells Jessica, "Last week, you got the save. This week … there's no saving you … from the stress of this competition." So either Colton or Phillip will end up in the bottom three for the first time. And … it's Colton!
Our bottom three are Colton, Hollie, and Elise. The girls get on either side of Colton and cuddle up to him, and I must ask: Can you imagine anything sharper or less inviting than a cuddle with Colton? Ryan walks Elise off toward the shame stools, and I swear, for a minute there, I thought he had a replacement puppy there for her. But no: Elise is safe! Good.
So our bottom two are Hollie and Colton, and whoever gets the lowest number of votes is just gone, and … WOW! It's COLTON! I typed and said WOW at the same time! Kind of maybe too loudly! Sorry, neighbors!
And that's it for Colton Dixon. He says to America: "I need to apologize. I wasn't myself last night. And I'll think about that when I'm making a record." And then he sings a song right to Jesus. Atta kid.