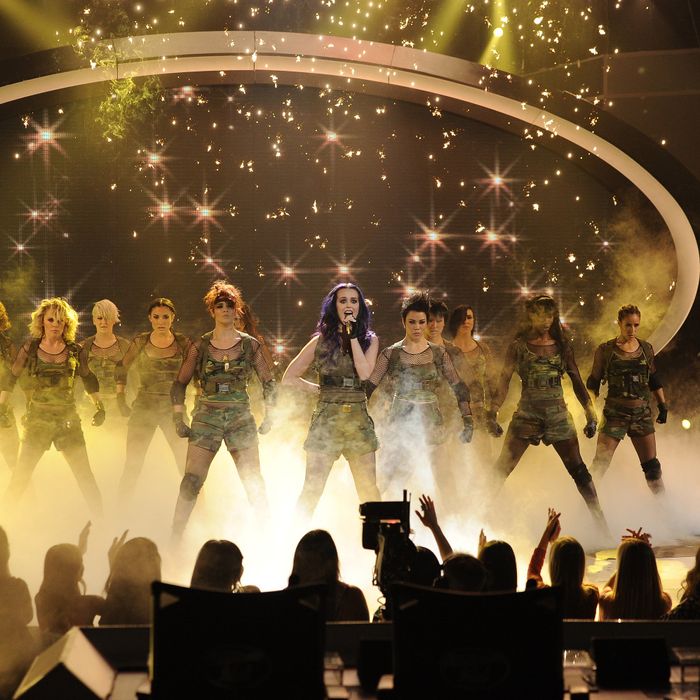 Photo: Michael Becker/FOX
Now that we've lived through The Save and The Shocking Vote-Off, we will spend the next few weeks in the stage of American Idol I call The Purging of the People You Knew Couldn't Win (culminating in the annual Week Where the Most Talented Singer Looks Like They Might Make It to the Final, But Nope They're in Third). So, while you don't know exactly what's coming, you know what's coming. It will take one hour.
I'm happy to report that there is a high level of discomfort in the first ten minutes. Ryan Seacrest greets the crowd with a series of handshakes, leaving one poor girl hanging for a long moment before she addresses the crowd with a "what ya gonna do" shoulder-shrug, thereby displaying more ease with improvisation in five seconds than Randy Jackson has in eleven years. Then we get a shot of the contestants' couch, and there is a space between the rest of the gang and Elise. We realize fairly quickly that that's Ryan's seat, but after last night's cold Idols-dishing-Elise package, I initially think, Man, these kids do not like her. And then the Ford music video is a tribute to standing around awkwardly. Oh, and we visit the TMZ offices, because that's a thing now. The first part of this show is making me so deeply uncomfortable, I think I might be related to it.
Then a Queen tribute band sends the crowd into a frenzy of trying to figure out what the fuck is going on. Listen: The kids in that auditorium are too young to remember Coldplay, so as dazzling as the Queen Extravaganza (no, that's what it's called) manages to be, it goes right over their heads. The Freddie Mercury stand-in actually looks like Freddie Mercury, though, especially in the mildly terrifying jaw area. They are joined for the finale by Brian May and Roger Taylor, or as the audience knows them, "more people."
Up first for their lovaluation: Jessica and Elise. Jimmy says Jessica stumbled a bit on "Bohemian Rhapsody" but regained her mojo on "Dance With My Father," adding that pimping her military dad was a brilliant choice to get the crowd on her side. (Mr. Sanchez is in the crowd and is not un-hot.) Elise chose a bad Queen song in "I Want It All" as it's too big a song for a TV studio, and an even worse Jimi Hendrix one in "Bold As Love," since it requires Hendrix's guitar to really work. Well said all around; my only note is that it's a couple of days late. Ryan tells Jessica: "Unfortunately … it's not looking good … for the other five people in this competition you're safe!" There is a writers' room where these gems are cut and polished, I just want you to think about that.
Casey Abrams stops by to say hello, working a look that can only be called "Paula Poundstone as the Cowardly Lion." He is there to introduce Stefano Langone, who is now just Stefano, and who is debuting his single "I'm On a Roll." It's one of those songs that's not really meant to be performed live; it changes keys a million times and basically requires him to suspend inhaling for three minutes. So, to compensate, they turn up his guide vocal so high he's basically dueting with himself. The song itself is one of those post–Pitbull jams that are pitched straight to Las Vegas, and I don't mean that in an entirely derogatory fashion. It could grow on me, and the kid's got young–Tony Danza spirit. It's hard not to left-hand-compliment Stefano, is something I'm learning.
Hollie and Joshua are up next, and Jimmy is so in my head about Hollie (shaky when she gets emotionally invested in a song, but nice recovery with "The Climb") that I just assume we will agree on Joshua, but we don't, so he is wrong. He says Joshua showed crossover potential with "Crazy Little Thing Called Love," then displayed some range with "Ready For Love," and I suppose a case can be made for both. I still feel like I don't know who this guy is, so I fear he'll be a victim of The Purging. Not tonight, though. He's safe, Hollie is Stool'd.
You know who would not even get a ticket to Hollywood if she tried out today? Katy Perry. So I'm not going to talk about her performance of "Part Of Me" or her militarized roller-derby team of backup dancers, except to say that it is rough and it is coming to a theater near you this summer in 3-D because I don't understand how anything works anymore.
Jimmy reveals that Phillip hasn't been well, and it's not the first time this has come up. What's wrong? Is there anything I can do? Phillip's lack of energy has left an opening for someone else to end up in the finale, according to Jimmy, who must know he's lying. He adds that Skylar did well in round one but was "indulgent" in round two by dedicating a song to her home town (though it was smart when Jessica pimped her dad). Jimmy does call out the judges for doing everything unanimously, so we're not fighting anymore.
Skylar gets sent right back to safety, leaving Hollie and Elise as our bottom two. And as you might have expected, it's poor Elise who gets sent packing. I will miss her voice, but she really has looked like she's been trapped in Hell for the last few weeks. This basically counts as a mercy-kill. The Purging can be kind that way.