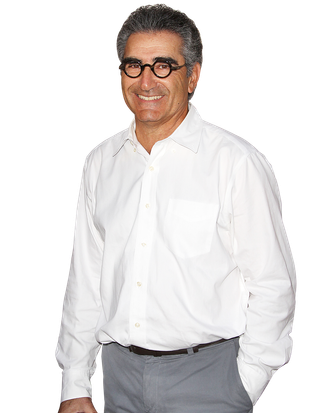 Eugene Levy.
Photo: Frederick M. Brown/Getty Images
As Jim's dad in the American Pie movies, Eugene Levy is a hilariously deadpan presence in a series of movies that are, by all accounts, shocking. (Within the first minute of the newest film, American Reunion, Jim slams his laptop on his penis.) In the new film, which centers on the gang's high-school reunion, Levy jumps right into the fold as a newly single dad who is excited to just get out of the house. We spoke to Levy, also a staple of Christopher Guest's mockumentary films like Waiting for Guffman and A Mighty Wind, about those straight-to-DVD installments of the franchise, kids with fake I.D.s, and the caterpillars above his glasses he calls "eyebrows."
You're the only actor who has appeared in every single American Pie movie, including all the straight-to-DVD films. What keeps bringing you back?
Well, I do separate the straight-to-DVDs from the theatricals. When we did the third American Pie, that was supposed to be it. The DVDs came along, and I don't want to sound too crass, but it was too good of a job to turn down … they were paying a lot of money for not a lot of work, to be honest. But I did want to protect the character in those movies, so he wouldn't be seen in a light that would shock or disappoint people. I was able to rewrite [on the fly] and say, "Yes, my character will do this." Or, "No, I won't stand beside any naked women, la dee dah."
You mention wanting to protect that character from some of the raunchiness. Without giving too much away, how do you feel about that dirty movie theater scene with Jennifer Coolidge?
[Laughs.] Well, I had trepidations about that scene. It wasn't in the story pitch. I didn't know how far it was going to go.
It's weird that you and Jennifer Coolidge haven't had a scene together in any American Pie movie, given how much you work together in Christopher Guest movies.
That was an exciting aspect of the story. We got to improvise a lot of stuff. To answer your question, that scene was — I think I could've easily said, "You know, I don't think I can go there." But, I gave [writer/directors Jon Hurwitz and Hayden Schlossberg] the benefit of the doubt because I trusted them.
You've mentioned trepidation a couple of times, and I know you're a father in real life. Has that affected the image you portray in your work?
The truth is I've never had to turn anything down because I thought it was too much for the family, or I wouldn't want my kids to see it. The closest it came to that was when we had the premiere for the first American Pie — my daughter was a little too young, she was about 12, and my son was about 15. He was going to go to the opening with us, and I was a little nervous about it. But then he talked to a friend of his on the phone the day before the premiere, who said, "Don't go see it with your parents!" And [my son] got kind of nervous about it. So he came up to us and said, "I don't think I'll go tomorrow night to the premiere. I think I'll wait to see it with my friends." I said, "Aw, really? Are you sure you want to do that?" [But I was] feeling a little relieved inside. I just thought that it was going to be an awkward movie to see with your kid.
Did your son end up seeing it at 15?
Oh yeah, he saw it with his friends.
At 15? It was an R-rated movie.
The movie was rated R, but I'd assume there are some theaters where you go in — you know, they have fake I.D.s.
You didn't care about that?
Seeing the movie? No, I had no problem with him seeing the movie.
No, I mean the fact he had to use a fake I.D. to see it in the theaters.
No, no, no. Because all the kids have these fake I.D.s that they use for whatever, getting into clubs and things, you know? It's not like he was 13. He was almost 16.
Shifting gears, are those your real eyebrows?
It's frightening, I know. But they are.
In the movie they trim them, so I wasn't sure.
They are. I mentioned to [the directors] that the scene almost seems like a joke about me, having nothing to do with the character, so I was a little nervous about it. So I wanted to add a line about how I didn't want to scare the neighbors by cutting them too much. They ended up not using that line in the movie. But, you know, I did have to let them grow a little bit. Not that they weren't substantial enough to begin with. [Chuckles.] I got the gardeners in and, you know, did a little cleanup.