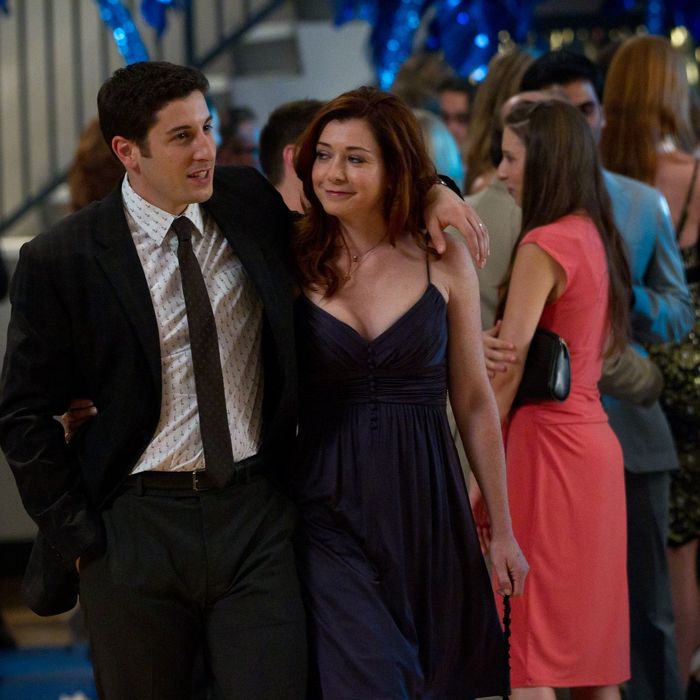 Photo: Universal Pictures
Much classic stage farce — Roman, French, English, etc. — begins with a middle-aged man who has lost sexual interest in wife (it's usually mutual) and is either tempted or makes aggressive attempts to sleep with a young and desirable woman, sometimes a virgin, sometimes another man's spouse. But lust makes him stupid, the fates mischievously throw obstacles in his path, and the consummation remains devoutly (or, rather, un-devoutly) to be wished. Note that it's a middle-aged man, not a teenage boy. It wasn't until the last half-century that the age of farce was lowered, and it wasn't until the advent of eighties teen-sex comedies — with the middle-to-highbrow Risky Business and low-lowbrow Porky's — that horny minors could have (or try to have) sex for laughs. Unlike their impotent forefathers, these boys actually did on occasion get laid, but in most cases with girls they truly loved, the movies pulling back from the ugly truth about most early sexual experiences (and the often contemptuous treatment of women that accompanies them).
In 1999, Paul Weitz's American Pie (from a script by Adam Herz) raised, or, depending on your perspective, lowered the bar. The movie wasn't as inventive as the Farrellys' There's Something About Mary (in which the cast was older), but it did a fine job of dramatizing male adolescent sexual panic. This was not exactly, uh, virgin territory, but after the male protagonists (Jason Biggs, Chris Klein, Thomas Ian Nicholas, and Eddie Kaye Thomas) made a pact to have sex before graduation, the humiliations rarely let up. It was a masochistic orgy. The pie scene in which Jim (Biggs) was caught by his dad (Eugene Levy) … well, no need to go into details… didn't just have audiences screaming but was followed by an inspired — and excruciatingly funny — scene in which Levy initiated a father-son talk on the subject of his own youthful sexual traumas. TMI TMI TMI TMI with a vengeance. Upending the usual norms, the females had the most sexual agency, taking control of the trysts while their would-be lovers fumbled.
The sequels that followed were increasingly desperate (by the end, the agreeably sleazy Stifler played by Seann William Scott had moved to the center), but the thirteenth anniversary brings a more crowd-pleasing effort, American Reunion. I caught the film at 12:01 a.m. in Sheepshead Bay, Brooklyn, with a young, rowdy audience that probably hadn't hit puberty when the boys lost their virginity in '99. But they knew all the characters and their shticks and applauded warmly at the end.
What's ironic about American Reunion is that it hearkens back to the middle-age-oriented farces of old. Jim, having been married to the now rather matronly Michelle (Alyson Hannigan) for nearly a decade and with a young son, is not getting it anymore. The movie starts with a full head of steam: Michelle goes to take a bath and Jim quickly settles into bed with some lubricant, a tube sock, and his computer opened to a college-girl porn site. This time, he's caught going at it by his little boy, whom he subsequently follows into the bathroom to find Michelle getting intimate with a handheld shower nozzle. The coming thirteenth-anniversary high-school reunion in East Falls, Michigan, offers an opportunity for the couple to recover their spark, and all is on course until 17-year-old Kara (Ali Cobrin) bobs out of the house next door in short-shorts and a skin-tight top. Jim used to babysit for her and she'd love to take the relationship in a new direction.
Everyone comes back for American Reunion, including three actors who've had notoriously bumpy post-Pie private lives: Chris Klein, Tara Reid, and — seen very briefly in the last sequence — Natasha Lyonne. They look worse for the wear but all in all not bad. Oz (Klein) is now a clownish TV sports personality with a pill-popping hotcha girlfriend (Katrina Bowen), while his former love, Heather (Mina Suvari), arrives with a handsome doctor (Jay Harrington). It's no surprise they fall back into their old (straight, dull) rapport. Finch (Thomas), who boasts of his world travels but clearly hasn't made much of himself, strikes up a friendship with former ugly duckling and now lithe and gorgeous Selena (Dania Ramirez — who wasn't actually in any other Pie picture). Happily married Kevin circles warily around Vicky (Reid). Stifler does what comes naturally: generates chaos. Levy, now a lonely widower, is back with his much-needed crack timing, and so, happily, is Jennifer Coolidge as Stifler's mom, looking plusher and more welcoming than ever. Cameos by John Cho's MILF Guy No. 2, the Shermanator (Chris Owen), and even (somewhat embarrassingly) Shannon Elizabeth as Nadia elicit happy whoops. Symbolically completing the circle is an unbilled visitor from Risky Business who helps Stifler get even with Finch. 'Nuff said.
American Reunion is often casual to the point of being droopy, but Harold & Kumar directors Jon Hurwitz and Hayden Schlossberg pack the frames with enough firm female bodies to hold the audience's interest. (There's a lot of cheesecake but not much beef.) They bring off one elaborate farce scene involving a drunken Kara, her parents, and Jim in a tight squeeze. People run in and out of doors carrying a prone body while others improvise absurd distractions. It's not Feydeau, but we're in the ballpark.
It's hard not to forgive the younger actors their rustiness. With the exception of Hannigan, who lucked into a hit TV sitcom after her irresistible Willow in Buffy the Vampire Slayer, none of them are exactly hot, and it's good to see them back on the big screen, resurrected along with their beloved characters. They've aged out of teen-sex high jinks — as I have, as you have or inevitably will — but seem ready to ascend to the next level of humiliation, with decades to get jiggy before American Geriatrics.