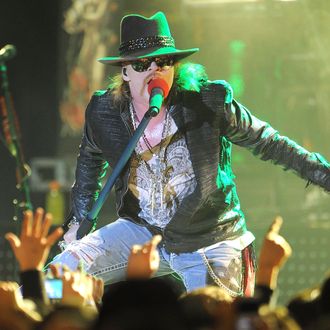 Singer Axl Rose of Guns N' Roses performs at the Hollywood Palladium on March 9, 2012 in Hollywood, California.
Photo: Jason Merritt/Getty Images
As soon as Guns 'n Roses landed a spot on this year's Rock and Roll Hall of Fame list — really, the minute they were nominated — speculation began about whether Axl and Slash would bury the hatchet long enough to reunite at the ceremony. Slash, for his part, told Rolling Stone that he "would fucking love to play," but that "it's just something that's not gonna happen for whatever reason." Then he was a little clearer about the reason: "[Axl] hates my guts." The long, relatively polite open letter that Axl sent to the Los Angeles Times today does not actually reference Slash by name, nor does it go into band-drama specifics, but it does confirm two things: 1. OG Guns 'n Roses will not be reuniting, and 2. Axl doesn't even want to be in the Rock and Roll Hall of Fame.
From the letter:
For the record, I would not begrudge anyone from Guns their accomplishments or recognition for such. Neither I or anyone in my camp has made any requests or demands of the Hall Of Fame. It's their show not mine. That said, I won't be attending The Rock And Roll Hall Of Fame Induction 2012 Ceremony and I respectfully decline my induction as a member of Guns N' Roses to the Rock And Roll Hall Of Fame.
His stated reason is that he prefers his band the way it is now:
This decision is personal … In regard to a reunion of any kind of either the Appetite or Illusion lineups, I've publicly made myself more than clear. Nothing's changed.

The only reason, at this point, under the circumstances, in my opinion whether under the guise of "for the fans" or whatever justification of the moment, for anyone to continue to ask, suggest or demand a reunion are misguided attempts to distract from our efforts with our current lineup of myself, Dizzy Reed, Tommy Stinson, Frank Ferrer, Richard Fortus, Chris Pitman, Ron "Bumblefoot" Thal and DJ Ashba.
And also something about how he doesn't want to be taken advantage of, we think:
No one's taking the ball and going home. Don't get it twisted. For more than a decade and a half we've endured the double standards, the greed of this industry and the ever present seemingly limitless supply of wannabes and unscrupulous, irresponsible media types. Not to imply anything in this particular circumstance, but from my perspective in regard to both the Hall and a reunion, the ball's never been in our court.  

But he still wants to thank the board for the nomination. Anyway, no reunion. Sorry, everyone.