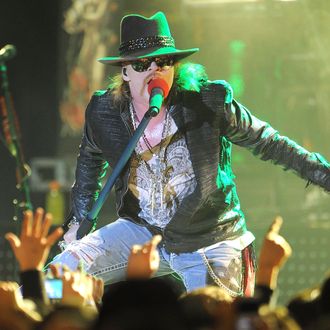 Singer Axl Rose of Guns N' Roses performs at the Hollywood Palladium on March 9, 2012 in Hollywood, California.
Photo: Jason Merritt/Getty Images
Yesterday, Axl Rose squashed hopes for a Guns N' Roses reunion with a possibly brilliant, definitely memorable open letter declining his induction into the Rock and Roll Hall of Fame. "No offense meant to anyone but the Hall Of Fame Induction Ceremony doesn't appear to be somewhere I'm actually wanted or respected," he wrote, before going off on a long riff about the various band lineups and self-promotion and letting sleeping dogs lie. The whole statement is worth a read, but the Rock and Roll Hall of Fame was apparently not swayed by it; they just released a statement reading, "We are sorry Axl will not be able to accept his induction in person." And now we all wait patiently for another Axl letter.