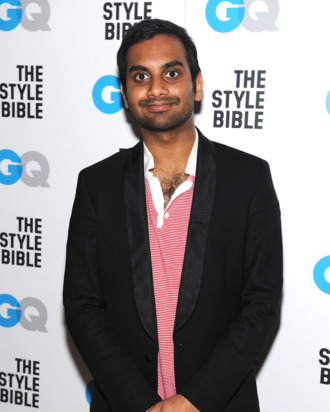 NEW YActor Aziz Ansari attends GQ And John Slattery Celebrate The Launch Of The April 2012 Issue at The Jane Hotel on March 12, 2012 in New York City.
Photo: Dimitrios Kambouris/Getty Images
It's the end of the world, but the cast of The Apocalypse is shaping up fine. Grantland brings word that Aziz Ansari has joined the cast of the upcoming end-times comedy, which will mark Seth Rogen's directorial debut (alongside Evan Goldberg). He's the latest addition to an "Apatow all-stars" cast that already includes Rogen, James Franco, Jonah Hill, Jay Baruchel, Danny McBride and Craig Robinson, and what's more, they'll all be playing themselves … albeit exaggerated versions of themselves who learn that the world is going to end while partying at Franco's mansion. Prepare yourself, Aziz: Seth told us that with this project, he hopes to become the best director of all time.