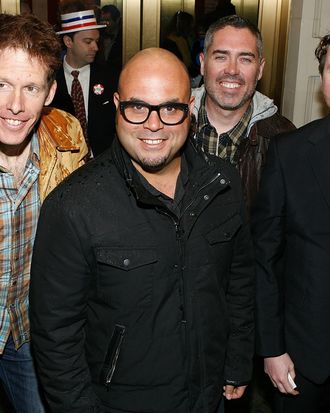 The Barenaked Ladies, with Ed Robertson in the center.
Photo: John Lamparski/WireImage
When we heard that the Barenaked Ladies had signed on to develop a musical based on the film Animal House, we were equal parts confused and intrigued, but now we've got more details from the Ladies themselves. At the Broadway opening of Gore Vidal's The Best Man last night, Ladies front man Ed Robertson confirmed that they've written about eleven tunes for the musical thus far, describing them as "really fun, stupid songs that I can't sing to my children." But how well can four Canadian guys write songs for a musical about American frat culture? "We have frats in Canada at our universities, but it's not the same," admitted Robertson. "It's such a part of the culture here, and you're right, it's something that we're not familiar with. But I don't know if you know this, but I'm in a rock band, and we toured all those American universities and played at those rush week parties in the early nineties, all over New England [in places] like Dartmouth College, where the whole movie's based on." Laughed Robertson, "They were so weird because the lineups were always crazy. We'd be playing on the lawn of some frat house and it'd be us and a Tribe Called Quest." Killer keg party, guys.