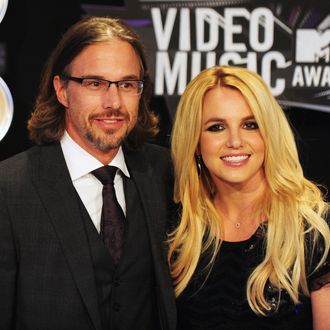 Photo: FREDERIC J. BROWN/2011 AFP
Here's an awkward follow-up for anyone who wished Britney Spears a heartfelt congrats on her engagement to manager Jason Trawick: Trawick will soon, er, as People puts it, "share legal control over Britney Spears." Forty-year-old Trawick will join Spears's father Jamie and attorney Andrew Wallet as co-conservator over all things Britney. "Trawick will only have shared legal control over Spears's general well being — not her finances," according to People's source. Oh. Wait, more? "In general, a conservator can make decisions over a person's food, clothing and medical care. But Spears has plenty of personal freedom and the conservatorship is just a formality, another source previously told People."
It's a "formality" that began with Britney's public psychological meltdown in February 2008 — a full year after her head-shaving incident. The legal guardianship manifested itself in a very real, non-formality-like manner in the summer of 2011, when Britney's reps said she was unfit to testify in a major lawsuit against her, citing her father's conservatorship role.
Listen. Is there a way to de-ick-ify this news or not? Perhaps the perspective of uninvolved Los Angeles probate attorney Jeffrey S. Cohen, as offered to People? "This is a very unusual situation, because generally you don't see conservatees get married. … This is probably a compromise between Britney, her father and Trawick to get the marriage off on the right foot. Obviously, her future husband needs to have a say in her well being."
Oh, God. Forget it. WAIT, IS THIS STILL NOT DONE? "The conservatorship will be lifted only after a judge is convinced, on the advice of Spears's doctors, that she's healthy enough to manage her own affairs." If 30-year-old Spears's huge album and subsequent major touring, glowing media parties assuming a successful turnaround, and $10 million offer to judge The X Factor aren't good enough grounds to prove her ability to manage her personal affairs, it's hard imagining what will be. Hard and sad.