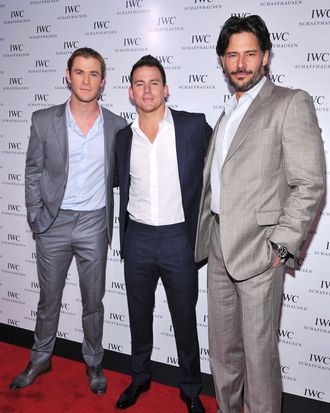 Channing Tatum and Joe Manganiello.
Photo: Fernando Leon/Getty Images
In the past, whenever we caught up with Channing Tatum and Joe Manganiello on the red carpet, they were careful not to divulge too many spoilers about their highly anticipated male stripper epic Magic Mike … but now that the trailer is finally out, they were willing to spill. So what can they tell us about the clothes (or lack thereof) they wear in the Steven Soderbergh–directed movie? And how about those assless pants that their co-star Matthew McConaughey designed himself? "Matthew is going to shock people into another world with this movie!" Tatum laughed last night at the flagship store opening for IWC watches. "He's going to change [minds] — he was born to play this part! He's incredible in this movie. He's my favorite part about this movie, and that's not me being self-deprecating, that's just the honest-to-God truth." As for those assless pants, Tatum teased, "I think we all sort of wear awesome stuff, but he definitely takes the cake in terms of outfits."
"He wears some amazing things in the movie," Manganiello agreed. "One of the first days filming, he was wearing a yellow Speedo with a halter top and I looked at him and was like, 'Man, this is really serious business that we're about to embark on.' Matthew set the tone for all of us."
Did Manganiello take after his co-star when it came to wardrobe input? "I did not have a hand in designing my outfit," he said. "I was given my outfits, which consisted of being painted head-to-toe in gold with a gold thong and a strategically placed fig leaf, for example." But Manganiello's favorite Magic Mike outfit – embroidered with his character's outrageous nickname – won't be seen onscreen. "My agents got me a silk boxing robe that says 'Big Dick Richie' embroidered on the back, and Steven was such a huge fan of my robe, so as a wrap gift I got him one that said 'Big Dick Director.'" And here's something to look forward to: "[Soderbergh] said he was going to wear it to the premiere." A promise is a promise!