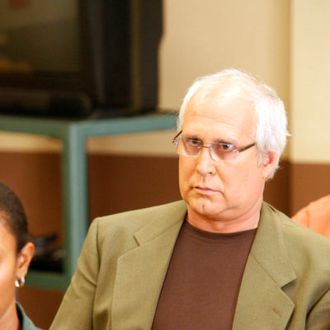 Chevy Chase on Community.
Photo: Chris Haston/? NBC Universal, Inc.
Back in February, Vulture was on the set of Community during its final day of production for its third season. At one point, as cast members gathered to rehearse a scene, series star Joel McHale started making duck noises and began playfully frisking Chevy Chase. Chase pretended to act annoyed at McHale's antics, but then flashed a broad smile, and rehearsal proceeded. All appeared well in Greendale. But according to a report this weekend on Deadline, the mood on the set turned sour not long after we left: Chase stormed off before shooting his last scene of the season finale; Harmon taunted Chase at the show's wrap party with a "Fuck you, Chevy!" in front of his wife and daughter; and an angry Chase left a nasty voice mail on Harmon's phone, which the writer played for a group of snickering people, the audio track of which was then leaked online. Also over the weekend, the Huffington Post's Maggie Furlong posted an interview with Chase, conducted two days before this writer was on set, in which the actor disparaged Community's writing, saying that he's "always [had] creative issues with this show" and that he "probably won't be around that much longer, frankly." While Chase and Harmon's differences have been well known by insiders for a while, it surprised some loyal fans who were already developing a nervous condition over the tenuous future of their favorite sitcom. They then panicked on Reddit, urging people not to call attention to the feud as it might somehow be a tipping point for NBC to cancel the show. One might refer them to the Charlie Sheen and Two and a Half Men situation for reassurance on just how much tension has to build before it affects a network's programming decision, but let's take a deep breath and look at the history of the Chase-Harmon feud, television business practices, and Community's pre-scandal renewal odds to see just what — if anything — might come of this.
First off, there's plenty of circumstantial evidence to suggest this is nothing new, that Chase and Harmon have tussled before — and without dire consequences. Last summer, Vulture heard from reliable sources that Chase might not return for season three (a possibility left open by the season-two episode in which Chase's Pierce Hawthorne exits the study group). One source suggested Chase's behavior was behind the possible exit; another said financial considerations were at play, with Sony Pictures Television — the show's production company — trying to lower the show's production budget. Obviously, the rumor proved to be unfounded; Chase has been a full cast member throughout this season. But at no point during Vulture's vetting of the rumor did any sources take issue with the notion that Harmon and Chase were not the best of friends.

Another indication that Chase has never really fit into the Greendale universe as neatly as the other actors on the show came during a 2010 Paleyfest panel. Harmon, sitting on the same stage as Chase, told attendees, "The cast — minus Chevy — is so nice." The scribe played it as a joke, and Chase played right along. But Harmon then went on to recount the time Chase said of Harmon behind his back, "I wonder what it's like to be fat and gay," and later called him a prick. Harmon made light of the incident by noting how honored he was to be harassed by a comedy icon such a Chase — so much so that he texted his girlfriend about it — but for those of us in the audience, it was pretty clear Chase was an outsider, and not just because of his age and longtime celeb status. Almost as awkward was when series star Joel McHale cited Chase's comedy chops but noted that he'd be even funnier "if he read the scripts" (just … kidding?); when searching for something else nice to say about Chase, McHale couldn't seem to make eye contact with the audience. (Ironically, the most sincere praise that McHale was able to muster was about how nice Chase's family is.) In fact, the only unqualified compliments that anyone other than an exuberant Ken Jeong could muster about Chevy himself was in praise of his past work.
The uneasiness of the relationship has almost become something of a subtextual companion series for diehard fans and critics: How much of Pierce's arrogant, loathed behavior is really Harmon commenting on Chase, whose reputation as being "difficult" extends back to his days on Saturday Night Live? The tension has even supplied Harmon and others with fodder for Twitter. Last month, Harmon tweeted to inform fans of his shock that his "dad took my side at the wrap party in an argument with a gaffer about whether Chevy is a dick!" And writer Chris McKenna last week jokingly offered to give away a Community DVD to anyone who would "fart the words 'comedy legend' into a ziploc and send to Landshark Industries, L.A., 900[French gibberish]." Earlier, he offered a contest to win "a Chevy un-read script, win any copy of this week's show."

Let's assume for the moment that the Chase-Harmon relationship has become permanently broken. (And that's all we can do now: A rep for Sony said Harmon had no comment.) Consider how Chase told HuffPo that he expected not to be back next season anyway. This could be either owing to: his own wishes (he wants out because he doesn't like the show); his recognition that relations had gotten untenable between him and Harmon, and so felt that he should move on; or the fact that he saw it likely that he was going to be fired and wanted to preemptively save face. But any of these scenarios set the scene to make it easy for him to leave, by his own decision or otherwise. And the show would likely not suffer. In fact, it could in some ways help Community's prospects.
 
For one thing, despite the fact that he was easily the most famous person in the cast when the show began back in 2009, his character has never been central to the show. Oftentimes, he's seemed more of a fringe character than non-study-group members such as Chang and Dean Pelton. (One sure sign the folks at Sony and Community have little love for Chase: The Deadline post about the current chaos included the random factoid that casting the actor was all Ben Silverman's idea. Assuming some of Deadline's intel came from set or production company sources, that's a telling thing for them to have mentioned. In TV land these days, the names of Silverman and former boss Jeff Zucker are pretty much synonymous with "epic fail" or "bad idea." See also: the supersize Jay Leno Show.) It's unclear if the current NBC regime has any feelings one way or other about Chase, but it seems hard to believe the network's decision to renew or cancel Community will be affected one iota should Harmon and producer Sony Pictures Television tell the Peacock that Chase won't be returning.

Indeed, it's possible a Chase exit could be beneficial to the show's odds of survival: Losing the actor from the cast would trim at least a million off of the show's annual budget, assuming the actor makes between $60,000 and $100,000 per episode. While that's not huge savings in TV, the typical network sitcom costs around $2 million or more per episode, and with Sony looking to make Community as cost effective as possible, eliminating the "former SNL star" line item from the show's budget can only be seen as a plus. And let's face it: Community needs every weapon it can find as it fights for renewal. Thankfully, things have been looking just a little bit better in recent weeks.

A just concluded syndication deal with Comedy Central ensures NBC (a co-producer of Community) a healthy chunk of change for the show's repeats; canceling it now would literally mean throwing away millions of dollars in back-end revenue, since every episode means more money. It also helps that the show returned to very strong ratings on March 15 and since then has held up nicely, even against an original episode of The Big Bang Theory last week. Community has also benefited from being something of a giant among pygmies: It's scoring better ratings for anything on NBC Thursday not named The Office. Its spring average is also better than Wednesday comedies such as Whitney and the recently debuted Bent. At this point, the biggest thing standing between Community and a fourth season is NBC's crop of comedy pilots. With comedies now doing better than dramas in prime time, there's something of a gold rush vibe among network execs. That's why the Peacock made twice the usual number of comedy prototypes this spring: It's desperately hoping to replace its cult Thursday sitcoms with a newer generation of star-powered chuckle machines powered by the likes of Roseanne, Sarah Silverman, and Dane Cook. If NBC falls in love with an unusually large number of these newbies, it could put Community even more at risk. However, given how many "promising" new NBC half-hours bombed this year, Peacock brass will likely decide to keep Community around as an insurance policy, perhaps ordering around thirteen episodes of it and 30 Rock to make sure it has backups if nobody laughs at the new offerings. Bottom line: The odds of the Greendale gang graduating to a fourth season look decent. Whether Chevy Chase will stay on campus is another question altogether, but one that won't have much to do with whether Community passes or fails.