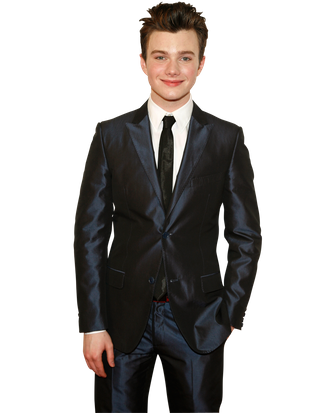 Chris Colfer is known as an actor — he won a Golden Globe for his portrayal of Kurt on Glee — but this Tribeca Film Festival, he's making his debut as a writer as well. His first film, Struck by Lightning, premiered over the weekend with eager Harry Potter star Emma Watson in the audience (she even asked a question during the Q&A!), and he's got a second film already in the works, in addition to a children's book, a Disney Channel pilot, and probably ten other projects by now. So it's only fitting that his character in Struck is an overachieving high school student who wants to take his writing to the next level — even if he has to commit blackmail to do it. Colfer chatted with Vulture about his own literary high school experiences, his future on Glee, and why he'll be auditioning for an Adam Sandler movie soon.
With me sitting behind this desk in this office, this feels like a job interview.
Go for it! Give me a job! [Laughs.] Please hire me someday!
Okay — convince me. What are your strengths?
I can sing and dance. I can smile — a lot. I can act … I do a little writing as well. And I'm good at typing. I'm a creative typist, actually.
Like your character in this film, you were also the editor of a high school literary journal. But you didn't have to resort to blackmail to get people to contribute, did you?
No. [Laughs.] When I did it, there was no blackmail. Looking back, of course, now I wish that there was. More blackmail! Blackmail needs to come back. I miss the blackmailing. [Laughs.] God, it was awful, getting people to contribute! I joined the writers' club my freshman year, and there were all these cool seniors there, so I thought, Wow, I've arrived. And then they graduated. So I became president of the writers' club my sophomore year, and it was miserable! No one wanted to write unless they had to. They didn't see the benefit of the therapeutic qualities that I knew from it and the escapism that it could supply.
If someone were to try to blackmail you, is there any dirt to dig up?
Honestly? Besides horrible dancing in clubs? There's probably a picture of me really sweaty, booty-shaking in a nightclub for someone's birthday or something. But I'm kind of an open book. Except for if anyone ever found my little journal of dreams, goals, and aspirations — that would be something I would not want the world to see. I'm really not good blackmail material.
Or you could just be saying that so no one tries.
See? You see right through me. [Laughs.] No, I wish I had secrets, but I really don't.
So, why didn't you set it up in the film so that the students could contribute to the journal via e-mail?
You know, honestly, I hadn't thought too much about it, other than the town of Clover where it's set is poor and a lot of people wouldn't have computers. Also, when you're watching a movie, it's so much more entertaining to see kids chuck pieces of paper physically in a box rather than a shot of a computer looking at an empty e-mail account. This way, an older audience isn't confused: "What's the difference between a tweet and a blog and an e-mail? I don't get it! Why is everything so complicated?" You know? And I love how the jock has his story on a napkin and the cheerleader has hers on pretty pink stationary.
You're writing another film that's going to be shooting this summer.
I play a very dark patient at this mental hospital who has had a very troubling, traumatized past, but it's more about the doctor who's helping me. It's a really creative, captivating story. What was really interesting about doing all the medical research for that time period, the 1930s, is that people were just considered crazy. They didn't really diagnose them the same way, with any method of treatment. So I was trying to find the terms and the procedures, and there just weren't any. People were just crazy, and you locked them up or gave them water treatments or electroshock therapy. It was crazy what they did to those poor, poor people. People chain themselves to genres, but I don't want to do that.
What about writing a musical?
Oh, yeah! I would love to. Absolutely. I kind of did this thing in high school, a spoof of Sweeney Todd called Shirley Todd, and I had a great time doing that. I wrote a 200-page script, and we kept the same songs but changed the lyrics a little bit. It was a totally different story, modern day, took place in punk-rock England. I played Mr. Lovett, and I sang all the high notes that Angela Lansbury had in the show, and I pick up that script sometimes and just laugh because it was so raunchy and so funny. It was good! I would love, love, love to bring that to Broadway, if Sondheim would ever let me turn that into a show. All that work in high school, I can't let it go to waste! [Laughs.]
What about doing Candy Land: The Musical?
Oh my God! Where did you hear that? Yes! When I was fourteen, I was obsessed with Candy Land, and I wanted to make it into a Broadway musical. I thought Candy Land could be the next Wicked. Candy Land the game was invented for kids with polio, so the story would start out with a boy who had polio and was magically transported into Candy Land and got to have all these adventures that he normally couldn't because he was chained to a hospital bed. So when I found that Adam Sandler had snatched up the rights to the movie, I was so bummed! I would have loved to have adapted that. I'll have to audition. I'd even be willing to make the costumes.
Coming up on Glee, your character has a make it-or-break-it audition that might determine his life after McKinley High, such as how he'll manage to stay on the show past graduation.
I haven't gotten the script yet, so I'm just as anxious as anyone to know. But it's not my decision. I love him so much. I would like to see what happens to him and watch him grow as a person and as a performer. But whether that means he just checks in from time to time, or whether he's on 100 percent, I'm okay with either of those. I just don't want to say goodbye. As long as they don't say goodbye to him, I'm fine.
So, this concludes your job interview …
I hope I impressed you! I hope I got the job! Let me know! [Laughs.]