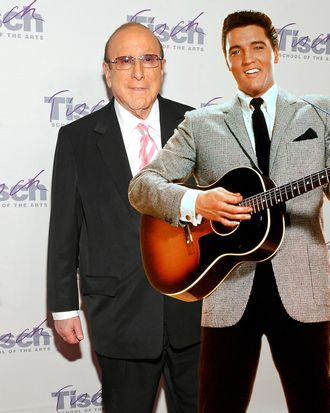 Clive Davis and Elvis.
Photo: Mike Coppola/Getty Images, GAB Archive/Redferns
At last night's Tisch School of the Art's Gala, music mogul and NYU alum Clive Davis told us that while he hasn't had a chance to see Tupac's hologram perform at Coachella, he is "in the midst" of an afterlife-inspired project of his own: an Elvis Presley duets album. Apparently Priscilla Presley brought him the idea and it "struck a responsive chord" with him.
"I immediately thought, My God, to go through his repertoire and not to be a slave to his tracks but to have some freedom to perhaps change some tracks as we see [fit]. Could Lady Gaga do 'Viva Las Vegas' with Elvis? You know, different ideas. We all have to explore what's fresh and new, even if it explores the departed." Maybe Gaga could even perform with Elvis's hologram, we suggest. "Elvis would be great," Davis agreed. Though, on second thought, perhaps Elvis should perform with Jo Calderone, and we can see who does Elvis better.