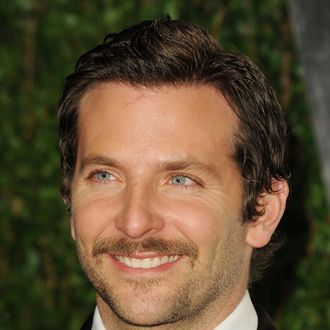 Photo: Pascal Le Segretain/2012 Getty Images
Vulture hears exclusively that director Jaume Collet-Serra (Unknown, Orphan) is in negotiations to take control of the long-gestating Legendary Pictures–Warner Bros. co-production of Here There Be Monsters, a Brian Helgeland script which Vulture has also just learned will be offered to Bradley Cooper to star as its leading man. If all goes according to plan, Cooper would play real-life Revolutionary War hero John Paul Jones (no Zeppelin jokes), albeit a much younger (and, dare we say it, handsomer) Jones, well before he had famously "not yet begun to fight" the Brits. After he's stripped of his British naval commission, Jones is hired by a shipping magnate to investigate the disappearance of merchant ships in the North Atlantic, which are used as toothpicks (beak-picks?) by a giant squid.
Collet-Serra is hardly the first high profile director to naval gaze on the project. Last July, it was Robert Zemeckis. Then, back in February, we reported that Brad Bird had been flirting with the project, but he, too, ultimately passed. Now we hear that Collet-Serra has been brought aboard to ready the script for an early 2013 start — essentially, allowing production to begin on Monsters the moment Cooper finishes filming Legendary Pictures' most pressing concern, the third Hangover film. Cooper won't be formally offered the role until the Spanish director's had a chance to get the script ship-shape.
We understand that Collet-Serra, meanwhile, is still attached to Warner Bros. Harker, a revisionist take on the classic Dracula tale. (Told from the point of view of the Scotland Yard detective tasked with solving a string of grisly, blood-draining homicides committed by the Transylvanian transplant, Harker won't start production until 2014, with Russell Crowe in the title role.)
Less clear is how Monsters might affect the studio's plans for its remake of Akira: Collet-Serra had been brought aboard last July as director, but the Leonardo DiCaprio–produced project has stalled over its budget, over $90 million, which Warner Bros. brass have insisted Collet-Serra shave down to a less hairy number.
The Spaniard had also recently signed on to direct Quean, a Girl With The Dragon Tattoo-esque CBS TV pilot from longtime Warner Bros. producer Joel Silver, but the pilot was ultimately abandoned after Sony Pictures' lawyers found the plot synopsis a little too Dragon Tattoo-esque.