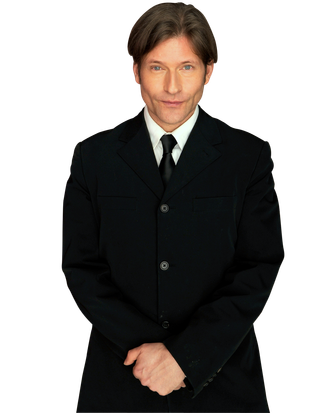 Crispin Glover.
Photo: Larry Busacca/Getty Images
One of the acquisition titles at Tribeca, the film adaptation of Elmore Leonard's novel Freaky Deaky, was set to star William H. Macy, Brendan Fraser, and Matt Dillon. But most of the cast was replaced at the eleventh hour by Crispin Glover, Christian Slater, and Billy Burke, who play the target of a bomb plot, an explosives genius, and a former bomb-squad expert, respectively. After its TFF premiere on Sunday, the movie had its international rights snapped up, which was good news to Glover, the most international member of the cast, as he spends a large part of his time in the Czech Republic these days, prepping several of his own indie film projects. Glover took a moment to chat with Vulture before his flight.
So you and [director] Charlie Matthau went to school together as children? That's how you knew each other?
He was two grades above me, which doesn't sound like that big of a difference now, but as a kid? The fourth grader doesn't really talk to the sixth grader. I was aware of him because of his very famous father, the late great Walter Matthau, and he was somewhat aware of me, because my mother would choreograph some of the school plays to help bring the tuition down. My father was nowhere near as famous as Walter, but not a lot of actors had children who went there, so we were aware of each other, and it was nice to end up working together.
Charlie originally cast William H. Macy in your part, but when preproduction dragged on, Macy went on to do Shameless. Were you aware of the cast changes?
You know, Charlie was explaining that to me last night! He said they had some pushes in the schedule where some of the actors who were supposed to do the movie couldn't because of their TV schedules. I was cast literally the week before filming. 
In the book, your character Woody Ricks is described as a "fat, sloppy dude," but that's not how you play him, nor is that what you look like.
I hadn't read the book — only the screenplay — but when I was approached for the role, I was concerned about that very thing. The way he was originally written, it was if he were almost immobile because of his girth, not able to dress himself. But it didn't make sense to make the character handicapped, so I found other ways to address that quality.
Woody's oblivious to all the bombs and dynamite going off around him. He never really reacts to things the way most people would. Like if a bomb went off in your hotel room right now, you couldn't ignore that.
No, of course not. I have to say I'm getting a little concerned. Is this interview legitimate?
Yes. Would you like to see the e-mail setting it up?
Please forward it to me. [Pauses while e-mail goes through and he reads it.] Okay. 
And I'm sorry — that question was not meant to sound like a bomb threat. Didn't mean to scare you there! I just meant, Woody seems unaware of the explosions, and yet somehow avoids them all, while floating by on a cloud of drugs and alcohol. He's bombed either way.
Ah! You know, there's a difference between ignoring something and not reacting. They might seem like the same thing, but I use portions of my own psychology, in my own way, to differentiate them.
Do you watch Justified? Some Elmore characters from one work bleed into the next — it's its own universe. So for instance, Carla Gugino revisited her character Karen on a recent episode.
I'm not that inclined towards doing that. I pretty much stick with working with feature films, not corporate television. The last thing I did for television was when David Lynch was directing Hotel Room for HBO, but I haven't done a series since. It's not my favorite area. If you do a film, you get a fair amount of time for preparation of your character, whereas on a television show, you get no time to think and prepare and make the kind of important decisions that you need to do to have a solid character.
Yet you didn't get that kind of time on Freaky Deaky.
If I were offered something else that was a last-minute thing, it would be very, very unlikely that I would say yes.
You're prepping a film now in which you would act with your father, where you would play multiple generations of fathers and sons. How far along are you?
We've been developing this for a number of years, and we're building the sets now. I have a Czech foreman and three Ukranian workers, and they've been working for the last eight months on building the sets in this space of 7,000 square feet at Barrandov Studios in Prague. I see a light at the end of the tunnel, but I don't like to predict when we'll start shooting. I wish we could start tomorrow!
Can you use your castle as a set? It's so cool that you even have a castle!
[Laughs.] It is kind of cool. It's kind of impressive. It's a very interesting piece of property, but I avoid the word castle — one thinks of turrets and towers and moats — so I use the Czech word zamek, which translates to keep. At one point, it was probably a fortress. It's a historical monument, and it has styles from different periods, since a large part was built in the Renaissance, and it's gone through some renovations. I think possibly at some point I can use it in a production, but not this one.  
You're going to London this weekend for the 25th anniversary celebration of the movie River's Edge. Whenever someone criticizes Keanu Reeves or claims he can't act, I tell them to go watch that movie.
[Laughs.] He's excellent. Everyone was really well cast in that film. It's a combination that it happens to be the 25th anniversary; MGM wants to make some announcement about the Blu-ray, and Sundance just happens to be putting on the first London version of its festival.
Do you have any favorite memories from working with Dennis Hopper in that film?
You know, we stayed friendly over the years, and some time later on afterwards, after Allen Ginsberg had been diagnosed [with terminal cancer], Dennis invited me to a dinner at his home in honor of Allen. I remember Dennis and Allen both having their cameras out, taking photos of each other taking photos. That's a funny image! He died too young.