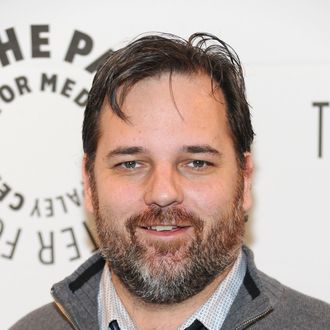 Dan Harmon.
Photo: Frazer Harrison/2011 Getty Images
After a feud between Chevy Chase and Community showrunner Dan Harmon blew up online this week, the normally talkative Harmon clammed up, save for the occasional vague tweet at his fans and detractors. Today, though, Harmon wrote a long blog entry about the matter, even though he acknowledged that "I'm really not supposed to be commenting on the situation, which I think is great advice, because anything I say will extend the story's life and cause more fans discomfort … If you're reading this and you work in PR, I know, I know, I'm sorry." In the blog post, Harmon basically apologized to Chase for playing his angry voice mail in front of a crowded room of fans (a recording of which then wound its way onto the Internet) but the bulk of his mea culpa was about addressing his own bad behavior and the effect it might have on the future of the show.
Wrote Harmon:
The people that I really want to apologize to are the fans of the show. If you want to know what's on my mind that I consider worth the attention of five million people, that's the place to look, Thursdays at 8 on TV. Those are the stories and the jokes and observations about life and personal confessions that I intend for that large a venue. There is also a monthly show I do in the back of a comic book store in Los Angeles in which I say things that I intend for 150 people to hear. I tell stories about what an unlovable asshole I am and the trouble it causes for me. I rant and rave about the world's failure to meet my standards, I talk about being drunk and stupid and heartbroken and childish and crazy and self-obsessed and self loathing and how much I love myself for it. The people that show up are paying ten dollars to listen to it, if you can believe that, and they made the drive out and put that cash on the barrel because they love or hate me but are fascinated by how much I fascinate myself - or their boyfriend made them go.

It was in that venue, months ago, that I made the horrible, childish, self-obsessed, unaware, naive and unprofessional decision to play someone's voicemail to me. He didn't intend for 150 people to listen and giggle at it, and I didn't intend for millions of people to read angry reports about it. I was doing what I always do, and always get in trouble for doing, and always pay a steep price for doing. I was thinking about myself and I was thinking about making people laugh. I was airing my dirty laundry for a chuckle. I ask people at those shows repeatedly to please think twice about youtubing clips of it because it doesn't play well outside the back of a comic book store. I always accept the risk that a well-intending fan will upload clips and something scandalous will break wide, but the giant mistake I made was involving someone else in that game of russian roulette, someone that didn't have an opportunity to say "yeah, hilarious, let's do this." That was a dumb, unclassy, inconsiderate move on my part. I'm very sorry it's reflecting poorly on the show.
Added the showrunner, "Now I've got [to] finish editing episode 319, and get politely scolded for commenting on the situation."