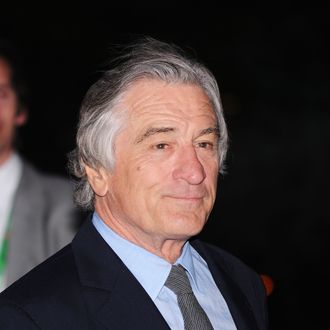 Photo: Jamie McCarthy/Getty Images
No sooner had the last teaspoon of Metamucil been stirred into Michael Douglas's martini glass than did our spies tell us that a second venerated actor was negotiating to join him in the CBS Films comedy Last Vegas.
Vulture hears exclusively that the studio is in the process of making a deal with Robert De Niro to star opposite Douglas in a script by Dan Fogelman, screenwriter of last summer's sleeper hit Crazy Stupid Love. We hear that De Niro and Douglas would play oldsters who both fall for the same "girl." The film, to be directed by Jon Turteltaub (National Treasure), is essentially The Hangover for the olds — four men of a certain age gather in Vegas for a bachelor party.
We also hear that talks continue with Christopher Walken to co-star, but that the studio plans to try to make a deal with De Niro first before ironing out a pact with the high-haired Walken.
Our favorite line in the Last Vegas script? One old pal denigrates another's fiancée by grousing, "I have anal fissures older than her!" It's Grumpy Old Men with an all-you-can-eat buffet of insults!