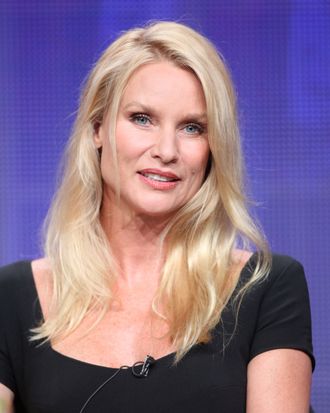 Actress Nicollette Sheridan speaks during the 'Honeymoon for One' panel during the Hallmark portion of the 2011 Summer TCA Tour at the Beverly Hilton on July 27, 2011 in Beverly Hills, California.
Photo: Frederick M. Brown/Getty Images
Nicollette Sheridan and ABC/Disney's Desperate Housewives retrial will start on September 10 and is scheduled to go through September 25, a judge decided earlier today. Judge Elizabeth Allen White initially set the new start date for June 4, but Disney objected, so now this case will drag on forever and ever, just like Desperate Housewives. The first trial ended in March in a mistrial, thanks to a hung jury — who were deadlocked at 8-4 in favor of Sheridan. This new trial will start four full years after Sheridan says DH creator Marc Cherry hit her, three and a half years after her character Edie Britt was killed off the show, two and a half years after Sheridan first filed suit, and five or so years since anyone still cared about Desperate Housewives.