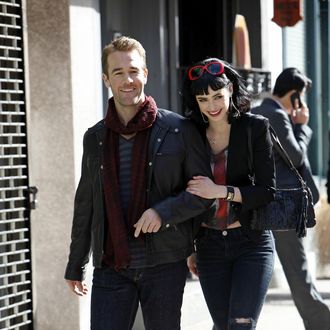 Photo: Patrick Harbron/ABC
ABC's Don't Trust the B— in Apartment 23 finally debuted last night, a full year after its pilot episode was filmed, and while ratings weren't Van Der Ful, they were pretty good! Airing after an original episode of Modern Family that brought in 10.3 million viewers and averaged a 4.1 rating with adults under 50, B—- kept 7 million folks tuned in and averaged a 2.9 in the under-50 demo. That translates into a lead-in retention of about 70 percent, which is very good for any show airing behind a blockbuster such as Modern Family. And it's also a bit higher than the season-to-date average for Happy Endings (though, in fairness, Happy aired several episodes this season behind repeats of Modern Family, thus bringing down its average). The downside for B—: It still ranked third at 9:30 p.m. behind both American Idol and Criminal Minds (though in overall viewers, Modern Family also got beat by CBS and Fox). It's too early to make any judgements about B—-'s future based on one week of numbers, but if it can stabilize around this number in coming weeks, it stands a good chance for renewal, perhaps paired with Happy Endings on a new night. And that's a lot better fate than what likely awaits NBC's new Best Friends Forever.
BFF collapsed in its second week on the air, averaging just 2.9 million viewers and a tiny 0.9 rating with folks under 50. Sure, in terms of overall eyeballs, BFF actually had a bigger audience than 30 Rock did last week (seriously: WTF, America). But BFF lost nearly half the audience of its wholly incompatible lead-in (Betty White's Off Their Rockers), and if we were betting, we'd say there's a good chance BFF will be replaced by a second episode of Rockers before the calendar shifts to May. (If NBC were smart, they'd also consider dumping its completely failed Rock Center newsmagazine — sorry, BriWi — from its 9 p.m. perch and replacing it with Harry's Law, which might get a boost from the gray-hairs watching Rockers). Meanwhile, another sign of how times have changed for Tyra Banks: Last night's episode of America's Next Top Model attracted barely one million viewers. Yikes.