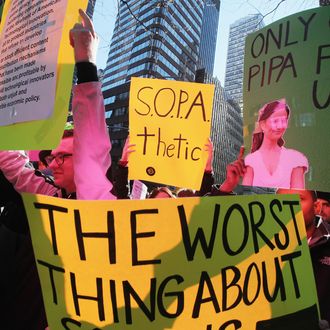 Protesters demonstrate against the proposed Stop Online Piracy Act (SOPA) and Protect IP Act (PIPA) outside the offices of U.S. Sen. Charles Schumer (D-NY) and U.S. Sen. Kirsten Gillibrand (D-NY) on January 18, 2012 in New York City. The controversial legislation is aimed at preventing piracy of media but those opposed believe it will support censorship.
Photo: Mario Tama/Getty Images
In a surprise move, Paul Bringer has stepped down from his position as the MPAA's chief technology officer. He was only hired by the association in January 2011. The reason for Bringer's departure: He no longer agrees with how the organization is approaching its battle on piracy. "I firmly believe that we should not be legislating technological mandates to protect copyright — including SOPA and Protect IP," Brigner wrote in statement posted on CNET. In the same statement, Brigner went on to say that, during his time on the job, his thinking about the issue changed, and he came to realize that the legislation the MPAA was pushing was not in the best interest of the Internet. This change in thinking has led him to become the head of the North American branch of the Internet Society, an organization that, according to its website, is dedicated to "the open development, evolution, and use of the Internet for the benefit of all people throughout the world." Both SOPA and PIPA stalled in Congress, owing, in large part, to public opposition.